Lyn Oswin, of Enchanted Floristry, is looking forwards to the return of her wedding bookings and, in the meantime, is launching some creative and fun craft classes in her warm and welcoming workshop in Minster Lovell .
The past year has been tough for each and every one of us, and those working in the wedding industry were among those exceptionally hard hit.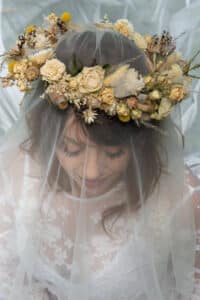 So I'm delighted that now, as we can hopefully see light at the end of the tunnel, that I'm able to work towards a return to creating sensational wedding floristry for the happy couples who have postponed from last year, and those already booked in for 2021.
I set up Enchanted Floristry in 2015. Having been a hairdresser for 30 years, I indulged my creative streak in a variety of ways from decorating wedding cakes to making felted teddy bears. As I approached 50, I felt it was time to do something else with my life and decided to indulge my life-long love of flowers by training in floristry.
 I began with City & Guilds evening classes and honed my skills at the renowned Judith Blacklock and Tallulah Rose Flower Schools. I also did unpaid work experience with a florist.
I launched my business from a shepherd's hut in the garden of my home but quickly outgrew it, so my husband converted our double car port into a spacious workshop. My hard work has paid off with a band of happy and satisfied brides the length and breadth of Oxfordshire and the Cotswolds.
I developed my own innovative, natural style – I'm always motivated to be one step ahead with my bridal floristry. I strive to be a bit different, always inspired and ultra-keen to make a bride's dream flowers become reality. 
Our photoshoots have included a spectacular 'walking on water' theme with a bride balanced on a dam in the middle of the river, then pictured with dazzling floral angel wings at Minster Lovell ruins. And I think nothing of lugging a large set of mirrored doors, decorated with flowers, into the middle of a poppy field to capture images for our Instagram page! The travels of 'The Wandering Door' have become our trademark. 
Keeping busy throughout lockdown has been really important in terms of keeping hands and minds busy! We pride ourselves on maintaining a constant flow of gorgeous images and upbeat editorial on our Instagram page, and have more than 8,000 followers.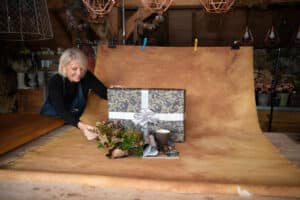 Happily, a few couples did tie the knot in 2020 and we created the flowers for these lovely 'micro' weddings. I've also had the chance to develop my fantastical costume headdresses, which have generated lots of interest. There was even a commission from a German fashion model for a fabulously elaborate hat which she photographed and showcased to her 99,000 Instagram followers! Watch out on Instagram soon for my latest creations – elaborate peacock and swan headdresses – which we'll be showcasing in a glamorous photoshoot when rules allow.
Setting up some quirky photoshoots over the past year, when regulations permitted, has been stimulating and fun. These included styling a country farmhouse for a magazine shoot, and piling Christmas gifts into a Morris Minor nestled in the woods for a Red Riding Hood Christmas shoot.
Get creative and have fun at our craft workshops
So, finally, with the arrival of the Covid-19 vaccine and, fingers crossed, the relaxing of restrictions, there's hope on the horizon for a return to fun, friends and relaxation. With the rules soon allowing us to reopen our lovely workshop with up to six participants we've decided to branch out with some crafty new options. 
We are kicking off with the chance to try your hand at the ancient art of Mandala stone painting. Simple to learn and beautiful to look at, workshops take place on Saturday, April 17th, from 10am-12.30pm, and Thursday, April 22nd, from 2-4.30pm. The price is £30, which includes all materials, tea or coffee and cake, and your finished Mandala stone to take away with you.
Mandala involves dotting geometric patterns of jewel-coloured paints onto smooth rocks to create unique decorative objects, which make gorgeous gifts. The patterns symbolise the universe, rooted in ancient Sanskrit where Mandala means circle or completion.
Getting creative with dried flowers is THE coolest trend – they are versatile, durable and sustainable, so come along to a workshop and we'll show you what you can create. Maybe a wreath to adorn a wall or door or a chic glass cloche arrangement? There's plenty of options – you can even run with your own pet project, we are here to help you. Why not get together with mum (this workshop makes a fab Mother's Day or Easter gift) or a few friends and spend a relaxing and fun day getting creative?
The workshops are on Saturday, May 1st, and Friday, May 14th, from 10.30am-4pm and the cost is £120. This includes tea, coffee and cake, all materials and you take your beautiful dried flower creation home with you. 
Last but not least, we'd love to show you how to create adorable Fuzzy Felt Dollies, which has been one of my favourite ways of relaxing in the evenings – my hands always have to be busy! Made from pipe cleaners bound with different coloured embroidery silks and with a wooden ball for the head, the facial features are painted on and then dolly is dressed however you desire using scraps of felt and fabrics to create her outfit and hairstyle. They make such sweet little gifts, loved by all ages, and can be personalised too. 
These workshops are on Saturday, April 24, from 1-4pm, and Wednesday, April 19, from 10am-1pm, and the cost is £35 which includes tea, coffee, cake, materials and your dolly to take away with you.
Contact Enchanted Floristry on 07767 016141 / 01993 775236 or email [email protected]