All opinion articles are personal, independent and not paid for by any establishment
Too good to not go to again!
Whilst out doing some photography on Thursday, we stumbled across a place we'd both wanted to visit for some time; The Cinnamon Stick, a Lebanese restaurant in Middle Barton.
Initially, it looked closed, it certainly wasn't bustling, but a sign outside on the drive tucked between two cars said open, so we thought we'd pop in. 
We were greeted by Khalid Mohammed, who, along with being barman, manager and chief bottle washer, is the owner of the Cinnamon Stick. I thought by the lack of customers that they had stopped serving lunch, but then I checked my watch; it was around 2.45pm, well past lunchtime. "Are you still serving food?" I inquired. With a big smile Khalid said that they were until 3pm. 
We were shown through to the back part of the building, where, over Lockdown, Khalid and a friend had created a very Arabian-looking getaway on what was presumably a patio in the Garden. Carpets and bits of cloth hung from the wooden ceiling to make a wonderfully fun dining area.
As it was a lovely day we decided to grab a table in the long Garden. My wife and I love our food and have a particular fondness for Middle Eastern flavours.
We couldn't fault a thing
We simply ordered three small dishes out of respect or maybe sympathy for the team, who were probably getting ready to go home. Houmous topped with Jawaneh spiced chicken; Kibbeh stuffed with minced lamb, pine nuts & onion and a Ful Moudammas – Boiled fava beans with garlic, lemon juice, olive oil & tahini. Along with a very decent portion of thin flat breads it was all lovely. I couldn't fault a thing – the Kibbeh being especially impressive.
I should imagine that the Cinnamon Stick is pretty busy in the evenings with regulars and faithful returning repeatedly. It's considerably off the beaten track so you would have to make a pilgrimage to it. Still, as it's been running for over seven years, they must be doing something right and it's certainly worth it.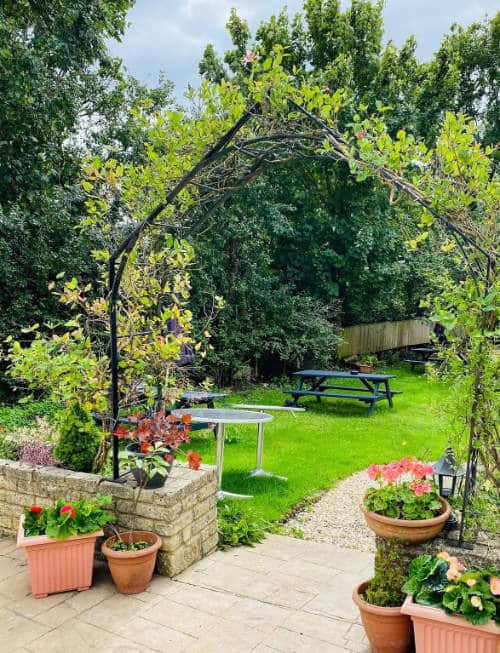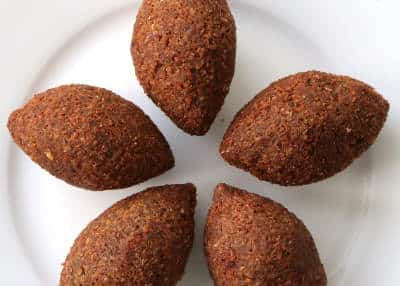 For someone who went out with a camera to take some photographs, I regret that I was so enjoying our meal that I forgot to use my camera at all. I'll simply have to go again. 
Khalid was an excellent host who had a bit of time to talk to us because the lunchtime rush had passed. He's a lovely chap. As we were about to leave he gave us a taste of their homemade Baklava which was delightfully sweet.
Khalid has just purchased and is installing a wood-fired pizza oven in part of the restaurant. A Pizza Oven? I hear you shout. This will be for a well-known Syrian type of pizza called Lachmagine (or as they say in Turkish restaurants – Pide, or in Lebanon – Man'oushe). Lachmagine is a meat-topped flatbread that is simply divine, in my opinion. The caramelised meat adds an inherent sweetness – with a side of Tahini even better.  It is served across the whole Levant region and soon in Middle Barton too.