All opinion articles are personal, independent and not paid for by any establishment
I considered myself quite lucky to get a table for two at the White Hart in Fyfield on Saturday Evening. The rave reviews for this place initially put me off trying for a table – It'll be too busy I thought. But No, not on this particular Saturday evening. 
The White Hart is a delightful looking place that embodies the essence of a quintessential English pub. I'd never been to the White Hart, or indeed Fyfield before. It's a lovely picturesque village and if it wasn't for the A420 being a mere stone's throw away, I should imagine it idyllic. 
The large car park was filling up as we arrived, with a collection of rather expensive cars that put our humble old Volvo estate well and truly in its place. Based upon the amount of cars, I was even more surprised that I managed to get a table. 
Coming from the car park, the entrance to the pub could be more impressive; down some steps past the outside toilets and through a small timber door. Upon entering, you are greeted with a cosy interior that exudes rustic charm. The traditional wooden beams and comfortable seating create a welcoming atmosphere that immediately puts you at ease.
The pub manages to strike a perfect balance between maintaining its historical character and offering modern comforts.
Upon seeing the dining room and feeling the warmth on this somewhat chilly August evening, I immediately regretted booking a table in the outside Orangery. We were shown to our table by Harry, a charming young man who was to be our waiter for the evening. Harry was incredibly friendly, attentive, charming and great fun too – Full marks Harry.
To call it an Orangery though is somewhat misleading; it's more a Marquee that covers part of the paved garden, with some overhead patio heaters. Initially, we were the only people in the tent and I joked with Harry that it felt like a 'Billy no mates' situation where we had been cast out into the cold. From what I understand, the Marquee had been a temporary idea during lockdown which the owners decided to keep. It's okay, but only okay. As it now seems to be a permanent thing it could do with a bit of loving care. Trailing what appears to be relatively cheap imitation spindly plants up some of the wooden pillars doesn't quite cut it – it could be so much better. Maybe I could recommend my wife with her interior design and gardening skills.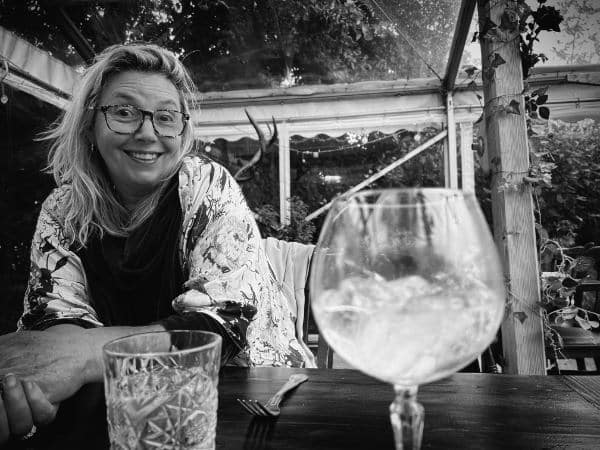 Looking at the menu, my wife immediately decided on the slow-roasted belly of Kelmscott Pork; there was no hesitation. 'I've read reviews of the Pork; it's sublime' she said. I was steered by Harry, who suggested a Nduja pizza from the outdoor wood-fired pizza oven. I had been contemplating the Rack of Lamb but went with Harry's suggestion.
We also ordered a few nibbles to start, a selection of breads (more about that in a minute), some Nduja and Tunworth croquettes with tzatziki (they've clearly bought a bulk supply of Nduja) and Duck fat hash browns with White Hart brown sauce.
The Duck fat hash browns were pretty okay. They were somewhat larger than I was expecting and hadn't got oodles of flavour; however, the brown sauce, which I'm assuming was homemade, was terrific with hints of fruity citrus. 
The Nduja and Tunworth croquettes were small morsels of delight which, in our opinion, didn't need the tzatziki at all; they were better without it.
The bread and the butter, amazing. I was enthralled and immediately whisked back to my childhood. At the risk of sounding like a Marks and Spencers advert, this was no ordinary butter; this was Beef Dripping Butter. Oh my golly it was lovely. I'd still have been delirious if I'd eaten nothing else that evening. It took me back to my Grandmothers house when I was about ten years old, being served beef dripping (with the beef jelly) on warm toast for tea. Heaven.
The Slow Roasted Pork and Pizza arrived and eyeing my wife's enormous plate of deliciousness, I quickly regretted taking Harry's recommendation of Pizza. The pork looked and according to my wife, tasted amazing, served with potatoes, roasted apples, celeriac puree and an elegantly thin strip of crunchy crackling.
My Pizza on the other hand was …. Actually flippin' good. The Nduja (a spicy spreadable chorizo) with the honey, herbs and cheese was great and the base beautifully crispy – but not so much that my teeth needed calming.
We couldn't manage dessert, but I did have coffee, which I regret to say wasn't the greatest in my opinion (it had a slight fruity note which wasn't to my taste) however it did come with two lovely homemade liqueur chocolates, which more than made up for the coffee. My wife finished her meal with a Rum-based Old Fashioned – she was a very happy bunny after that.
Thank you Harry.
We shall return.