All opinion articles are personal, independent and not paid for by any establishment
The Old Swan pub in Old Minster is a charming traditional English pub in the picturesque village of Old Minster. It is famous for its old ruins and often overrun with tourists and dog walkers. 
The pub has a rustic interior with dark wooden beams and the most beautiful sprawling landscaped gardens. Next door is the Mill Hotel and restaurant (sister to The Old Swan) with even more magnificent gardens, the river Windrush rushing through it, and a hydroelectric turbine making the hotel energy self-sufficient, producing around 48kwh per year.
The pub offers a wide selection of beers, ales, wines, and spirits, including some local specialities. Whether you're a beer enthusiast or prefer a classic cocktail, there is something for everyone.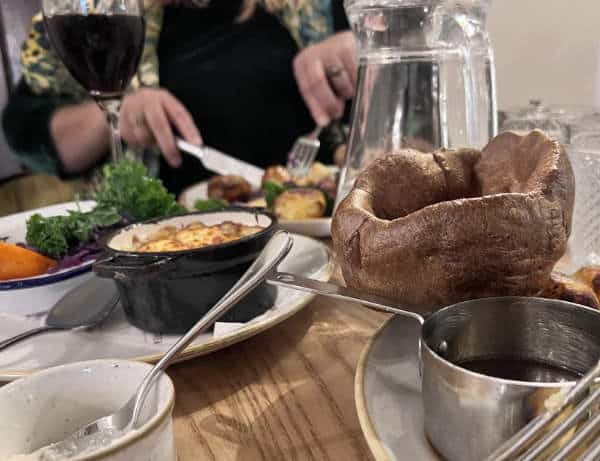 Neither my wife nor I could fault our lunch
For fine dining, one should probably visit The Mill across the road, but for more traditional pub fare, the menu at The Old Swan pub features a range of traditional favourites.
My wife and I had booked for Sunday lunch and upon arrival were shown into a large, high-ceilinged, beamed dining room. I regret to say, as this will be my only slight gripe, it was just a little unwelcoming, although it's hard to know quite why. Maybe it is a lack of Art, soft furnishings,  or possibly that all the tables and chairs looked very new against the backdrop of the dark beamed ceiling. As it got busier, the chatter certainly softened the dynamics.
The waiting staff could not have been better. We were served by a young woman called Emilia, who was divine – she had a radiant smile, was wonderfully confident and sparkled.
The Old Swan specialises in pies, which I understand from regulars are pretty darned good; however, this being a Sunday my wife and I plumped for the traditional Roast Beef. The beef was lovely, pink and full of flavour and served with all the trimmings of roast potatoes, parsnips, broccoli, carrots, cauliflower cheese, very crispy Yorkshire puddings and a small pot of extra gravy that my wife was in raptures about.
I'm pleased to say neither my wife nor I could fault our lunch. It was a lovely plate of traditional grub and we will definitely be going again.
Thank you Emilia.
For two with a G&T, glass of house red, coffee and optional service charge – about £65.