Blue Cocktails
What could be more Summery?
It's believed that the Blue Lagoon was created at Harry's New York Bar in Paris in the 1960's
Blue Curaçao is a Caribbean liqueur made using the dried peel of the Laraha citrus fruit also known as the Curaçao Orange which is too bitter to be edible. The liqueur is then coloured blue. 
In a cocktail shaker add all ingredients.
Add ice and shake.
Strain into chilled Hurricane cocktail glass (any tall glass will do).
Add lemon or lime slice, some mint (optional) and a Maraschino Cherry
Sunrise Lagoon - Sunny Side Up
The layered effect is mesmerising
50ml Pineapple Juice
25 ml Orange Juice
15 ml Grenadine
5 ml Lime juice 
5 ml Blue Curacao
Sparkling Water (Or Prosecco)
Orange Slice to garnish
In a large tall glass pour in the Grenadine.
Add ice (preferably crushed)
Mix Pineapple Juice, Orange juice and Vodka (Tequila works well too) together in a separate glass and pour over ice.
Mix Blue Curacoa with the 40 ml of sparkling water (or Prosecco if using).
Using the back of a spoon pour over so that it floats on the top of the drink.
Garnish with Orange slice and cherry
Mix Rum, Blue Curacao, Cream of Coconut, Pineapple Juice and Crushed ice in a blender.
Pour in to glass and serve with Pineapple slice garnish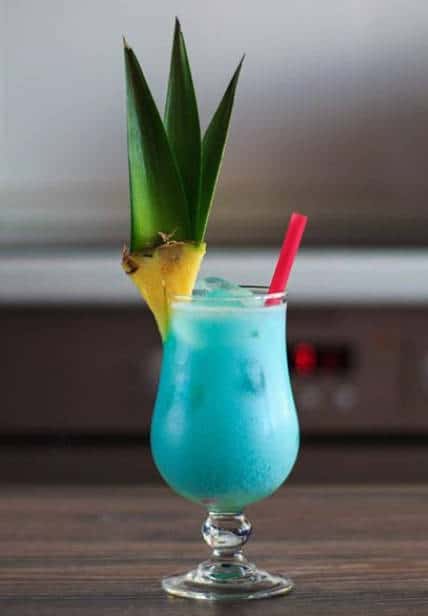 Inspired by the engagement ring given to Kate Middleton by Prince William and created by legendary mixologist Charlotte Voisey
Add the gin, crème de violette, blue curaçao and lemon juice to a cocktail shaker or glass with ice, and stir until well-chilled.
Strain into a Champagne flute, and top with the Champagne
Garnish with edible silver powder (often used for cake decorating) 
An ounce in millilitres is approximately 30ml
Clicking Amazon Links on this site won't cost you any more than going direct to Amazon, but it does benefit our chosen charity, a little.
Thank You