All opinion articles are independent and not paid for by any establishment
The Spicy Beef Salad was amazing
Tucked down a very narrow passageway off the High Street in Oxford very near Wheatsheaf Yard is Chiang Mai Kitchen. 
The building itself is wonderfully old and idiosyncratic with dark wood panelling and a few token Thai decorations.
As we arrived I wasn't entirely convinced I'd made the right decision in booking this restaurant. Walking through the main entrance, an automatic hand sanitiser greeted us and a sparsely decorated, empty dark room with wood panelling and a large wooden table was on the left with nobody in it. On the right was a very quiet kitchen.  It was a Tuesday but even so I expected more people than this. 
We ventured up a wonderfully old and well worn wooden staircase and as we did so we could hear the clatter of plates and the chattering of diners.  For midweek it was incredibly busy and my 8:30 reservation seemed to be a second sitting as the young woman quickly relaid the table with a new cloth.  Based upon how busy the restaurant was I am amazed that the kitchen was so quiet. 
The building itself has a a real old world charm about it, somewhat akin to a country retreat but the restaurant is ….. well let's say, less polished !  Paper table cloths, recycled water bottles filled with tap water, rather basic glasses and something I haven't seen for donkeys years – a dumb waiter, bringing food up from the kitchen below.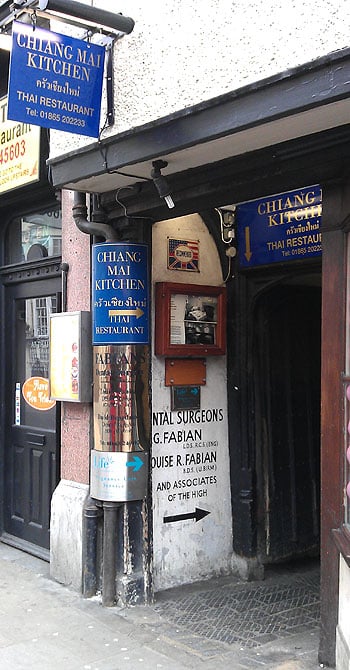 Personally I love a 'Specials Board'
We started with a couple of drinks a 'Curious Cider' and a Lime and Elderflower Cordial with sparkling water', which I regret to say wasn't very nice with a musty overtone.  
The menu is gigantic, which, to me, is generally a bit off putting as it makes me wonder how the chefs can possibly cook so many items from fresh on a daily basis. Personally I love a 'Specials Board'.
For starters we ordered the MIENG GAI (Minced chicken with Thai spinach), PLA MEUK THOD PREK TAI (Calamari in light batter) and PAK CHUP (Deep fried mixed vegetables).  
We liked all of the starters to a degree but regrettably I wasn't overwhelmed by them. The Minced Chicken and Spinach was the best but possibly a bit dry and had it not been for a delicate slice of lime a bit uninteresting, the Calamari in batter was pretty good but it seemed to be more roasted and served with a very dark sauce slightly reminiscent of a reduced Soy Sauce and the Deep fried vegetables, whilst incredibly hot were not crisp and the vegetables a bit soggy.
For mains we ordered YUM NEUA (Spicy beef salad), GAENG PAR NEUA KWANG (Venison with jungle curry) and a PAD THAI( Traditional Thai dish of fried noodles with chicken, king prawns, bean sprouts, crushed peanuts and egg).
The spicy beef salad was fantastic, lovely tender beef, lots of chilli and a wonderful freshness that led to my wife and I arguing about who should finish it.  The Venison Jungle Curry was very nice and hit all the right spots whilst actually not being too spicy.  
And now we come on to the Pad Thai. In my opinion and that of our family and many friends, my wife, despite not having a Thai bone in her body, does the best Pad Thai in the world.  In our quest for a restaurant Pad Thai to beat it, we order it at every Thai restaurant we ever go to – maybe in the hope that we find one just as good or more probably to further flatter her that nothing is anywhere near as good as hers.
Well, Chaing Mai's Pad Thai was pretty darn good, equally as good as some of the best restaurant versions we have had – but still not as good as my wife's version. 
We didn't have dessert and our bill was just shy of £75
I'd definitely go again but this restaurant flies in the face of others we have enjoyed, where the starters are the best bit and sometimes we regret ordering the mains. This was the reverse as the starters were definitely not the stars of the show.