All opinion articles are independent and not paid for by any establishment
Quintessentially chocolate box
My wife and I went for dinner at The Nut Tree Inn at Murcott, Nr Kidlington recently where chef and co-owner Mike North has held a Michelin Star since 2008.
It's a beautiful building, thatched and quintessentially chocolate box. As you walk in it does look sort of like a pub, with very low beams and a bar; a few drinkers at the entrance enjoying a pint. But to say it's a pub or even an Inn is doing the place an injustice.
We were ushered to our table in a lovely looking alcove adjacent to a large country style fireplace, that thankfully wasn't lit, except for a candle glowing.
My wife ordered a Gin and Tonic (which I believe was SkyWave Orange and Vanilla), whilst I enjoyed a bottle of Tap water.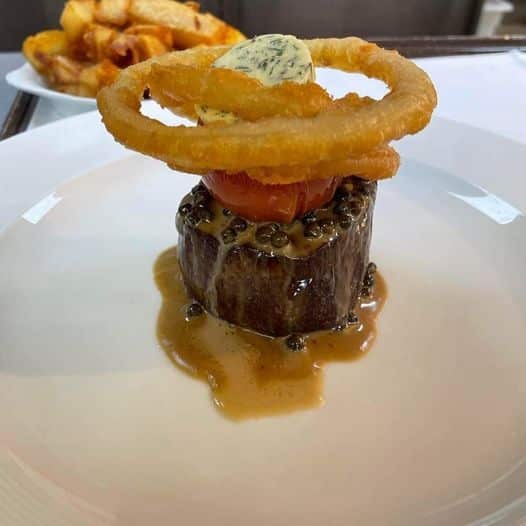 Obligatory Twice Baked Cheese Soufflé
The menu is pleasantly concise and includes starters of Parfait of chicken livers, Nut Tree smoked Loch Duart salmon and what seems like an obligatory Twice-baked Cheese Soufflé – Old Winchester in this instance.
Ironically Twice baked Souffles in various guises have been on three of the restaurant menus we have enjoyed in the last three days. A sublime Roquefort Twice baked souffle at Pierre Victoire in Oxford, Cheddar with Spinach at Chequers Inn at Churchill and now here.
Mains include; Beef fillet with Nut Tree chips, confit tomato, onion rings, tarragon butter, beef & beer gravy at £45 and a Herb-crusted Lamb dish at £42. There are others of course and also a vegetarian option but in my excitement to order I forgot to memorise or photograph the menu!
My wife surprisingly went for the Twice Baked (and twice eaten in her case) cheese soufflé (£17) as recommended by the pleasant but very formal waiter and I went for the Parfait of Chicken livers (£16). 
The Cauliflower Velouté was definitely undersold
We were presented with a cream coloured Cauliflower Velouté – Amuse Bouche which was very nice, smooth and quite tasty, sipped from a small white espresso cup.  I was reminded of a similar Amuse Bouche at one of my all-time favourite restaurants, in Cheltenham – Le Champignon Sauvage.  David Everitt-Matthias, owner and Michelin starred chef created a Pea Velouté, with a pea foam served in a tall shot glass allowing the vivid green colours to excite the eye before the tongue. 
I think the Cauliflower Veloute at the Nut Tree undersold itself being an all white and all together more drab looking offering.
Both starters looked amazing when they arrived. The chicken liver was topped with a square of jellied something which was lovely and the soufflé arrived under a crown of grated truffle.
As is our normal routine in a restaurant, any restaurant, before digging in, my wife shared a morsel of hers and I shared a significantly larger bit of mine. I thought the soufflé, what little I was allowed, was as light as you could imagine and my wife loved the chicken liver parfait.  
After a couple of mouthfuls, my wife wasn't exactly gushing over her soufflé and I asked if she preferred my parfait – which apparently she did, so we swapped. I think, despite its lightness, she found it a bit too eggy and also a bit too mustardy. Fair enough, I like eggs and mustard so we were both quite happy.  Hand on heart it wasn't as good as the soufflé at Pierre Victoire bistro in Oxford which was divine, this one was overwhelmed with the taste of truffle making the Old Winchester cheese somewhat of an added extra, but it was ok.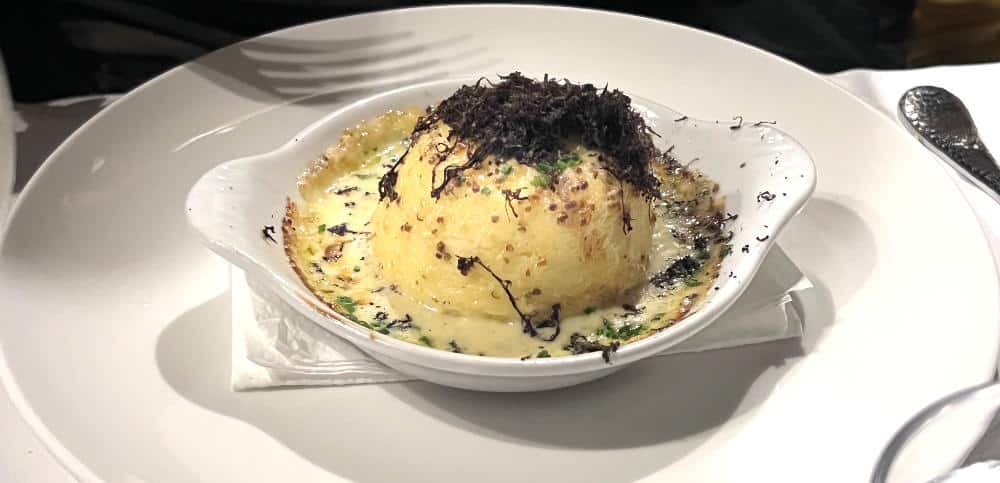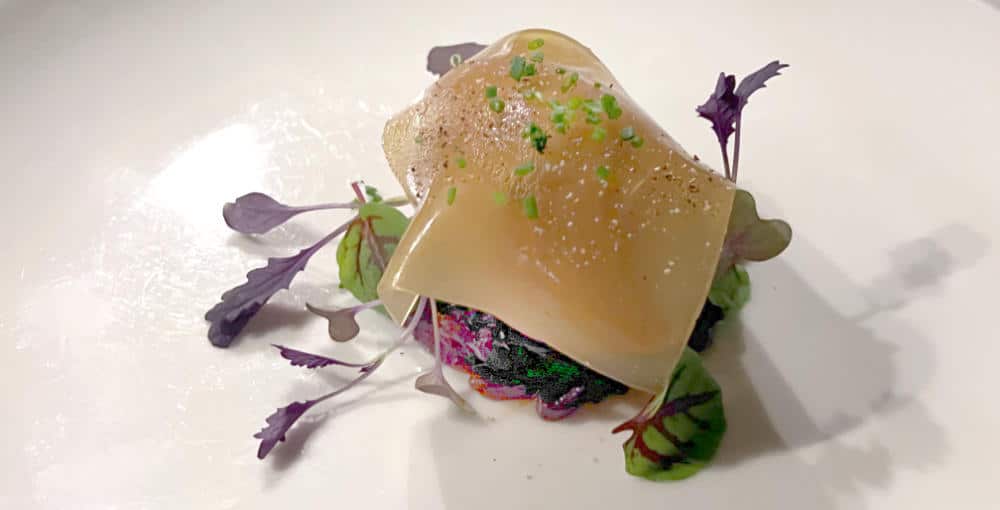 There was a rather Awkward and Stilted
In contrast to the slightly quirky back garden bedecked with wooden tables, heater and blankets for patrons to use, the atmosphere in the restaurant was stilted, hushed tones where people spoke and ate very quietly. I have to admit it felt rather awkward and certainly not fun. Sometimes a bit of pop music played cheerfully from the bar area but not often.
Our mains arrived. Mine a thick cut fillet of beef, about three inch diameter, topped with a grilled tomato and onion rings, on the side some amazingly crunchy, glassy chips. It was in effect steak and chips, dressed up with a little more pomp. My wife's herb coated lamb was decorated with all sorts of interesting vegetables, including a carved artichoke, which frankly looked a bit more exciting than my dish.  My beef was beautifully cooked and exceedingly enjoyable – however, its plating, in my opinion, left a fair bit to be desired. Stacking everything on top of one another with a side of fries wasn't a million miles away from the plating in a steak house, only missing the cocktail stick and a portobello mushroom.  
Walnut and raisin Bread was Divine
The lamb that my wife was enjoying and that I was sort of coveting was divine, made more so by a celeriac puree and a small pickled onion that knocked my wife's stockings off, to the extent that she beckoned a waiter over to ask what it was that she just ate – our waiter looked on, bemused and amused, not knowing what my wife had just eaten.
I don't usually mention the complimentary bread, (personally, I find it unfathomable that some restaurants charge). I can't remember them all, 
and I'm assuming they were all homemade,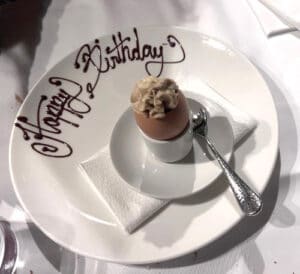 but I would very happily go back every day for the Walnut and Raisin brown bread. Gosh, it was wonderful and was the highlight of the meal in my opinion.
We decided to pass on desserts, not because of cost, but because there was nothing that we particularly fancied on the dessert menu.  Actually, that's not true, we did fancy the complimentary pre-dessert of chocolate and salted caramel mousse served up in an eggshell.
As it was my wife's birthday this egg-shaped loveliness duly arrived despite us not ordering dessert and was wonderful.
All in all a pleasant dining experience, but, and it's a big BUT in my case, two mains at just shy of ninety quid is quite a lot of money – (although not as much as Tom Kerridge's £95 steak and chips at the Hand and Flowers in Marlow), but certainly London prices. For that level of cost I expect something that is truly exceptional, in ambience, decor, plating and taste and I'm afraid I'm struggling to say that The Nut Tree totally delivered. 
Unless some very wealthy friend want's to take me I may not make a return visit which is a shame as there is something dreamy about discovering a restaurant that one aches to go back to.