All opinion articles are personal, independent and not paid for by any establishment
For a birthday treat my wife bought me tickets for a Wood Fired Feast at Nomadic Dinners in Chalfont St Giles. 
Okay it's not based in Oxfordshire ,but I am, so maybe tenuously I can include it here. 
These particular tickets were for a Wood Fired feast by Masterchef finalists including the 2021 Winner – Dan Lee, Finalists – Daniel Marreiros and Ryan Baker. 
August, along with the whole summer I guess, has been very dry and pretty warm if not unbearably hot at times. As we drove with the roof down from Oxfordshire to the woodland venue of Nomadic Dinners in Chalfont St.Giles I was almost too warm and contemplated putting the roof up and the air-conditioning on.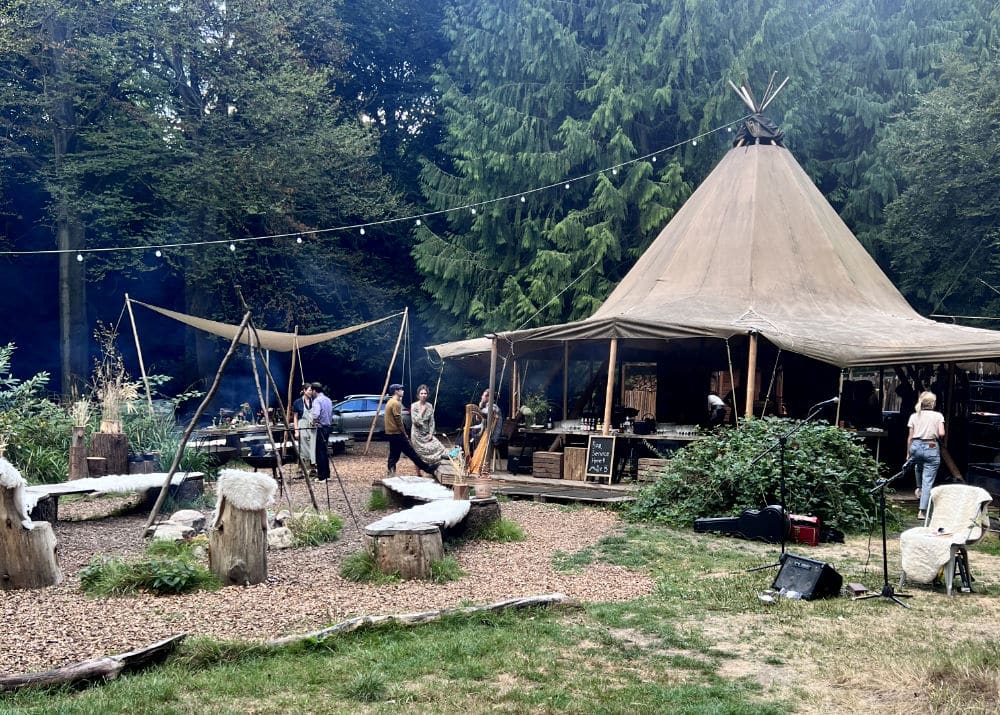 As usual, I was overdressed
People who know me would undoubtably say it was my own fault for being too hot. You see when I go out to dinner, especially one that has cost my other half £150 a ticket I think I should probably make an effort to look smart. I don't go over the top in my dressing up and wear a Top Hat, Tails and a bow tie, (not always), but I do wear a long sleeved shirt, smart trousers and a Jacket.  
So upon arrival, parking my car in the field adjacent to the venue,  I'm already the odd one out. Clearly if I'd wanted to fit in I'd be wearing shorts, a polo shirt and sandals (with socks – when did that become a thing?)
We weren't late, but were quite obviously amongst the last people to arrive, as I'd estimate 60 or so people had already been given their complementary Gin and Tonic. As a teetotaller I was given a herbal alternative to Gin which was surprisingly quite pleasant. Luckily our arrival coincided with the arrival of the canapés.
The mackerel canapé was divine
As the three trays arrived filled with about 60 or so small morsels it was clear that each canapé had been created by a different chef, a sample maybe or a taste of things to come.  First we tried something that looked like a slice of Frankfurter on a cocktail stick which turned out to be a slice of Mushroom stalk – it was okay and had an interesting flavour but not something I'd be rushing to have again. It was prepared by Dan Lee the winner of Masterchef who is based in Birmingham and who's heritage is a mix of English, Irish and Cantonese.  I'm guessing the mushroom is from his Cantonese influence.
Then there was a potato slice with a weeny bit of sauce on the top, prepared by Ryan. The consensus of opinion from many of the diners that I had the pleasure of speaking to was – it's just a potato. And it was – a cold potato. The sauce on top was largely flavourless but did add a nice colour.
Lastly it was the turn of Portuguese Daniel to entice and excite our taste buds. A wafer thin biscuit with two or three carefully placed drops of sauce surrounding a delicate slice of charred mackerel. I'm sure you can tell by the way that I'm describing it that this morsel was my favourite, also the favourite of many of the diners my wife and I chatted to. It was Divine.
If this had been a competition Daniel Marreiros won this round.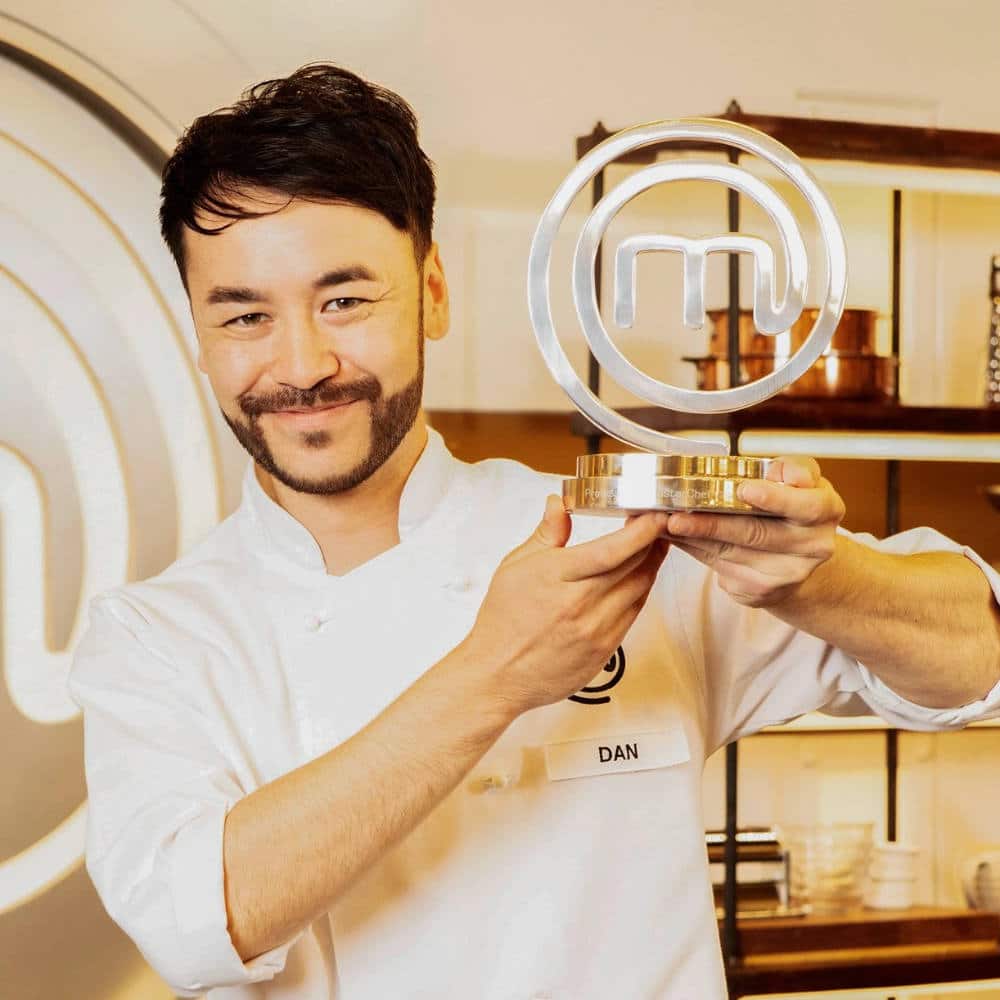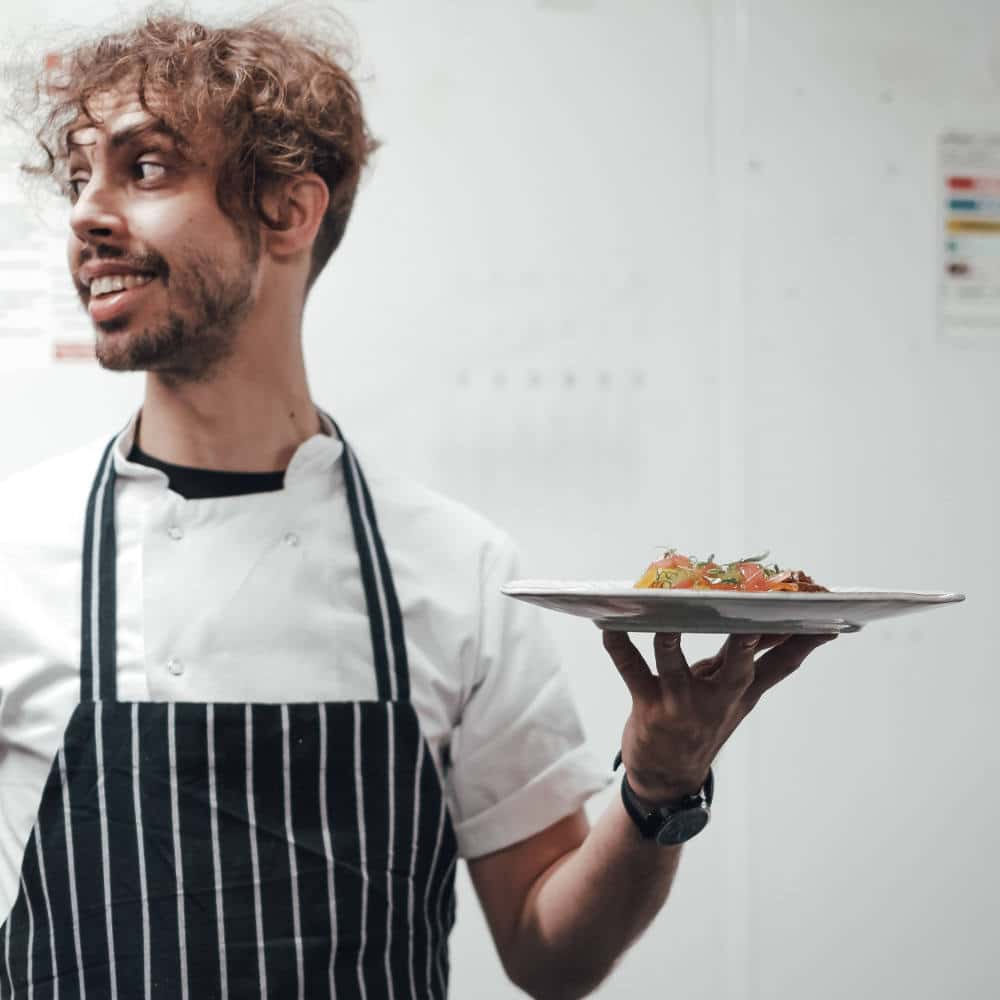 Compost Loo's are not the best
After a few minutes of socialising and listening to a very pleasant and talented harpist, (not something you see in a field every day) and keeping a close eye on the mackerel canapés to see if I could risk going back for a second, the group of 60 was randomly* divided into two groups to go off foraging. Personally I wasn't expecting that, but I think maybe my wife didn't mention it for fear that group activities and bonding wouldn't have been up my street. "No you go, I'll stay here" I said, eyeing up the last of the mackerel. So along with half of the group of diners she went off to discover what she could eat in the wild and I swooped in on the remaining mackerel morsel.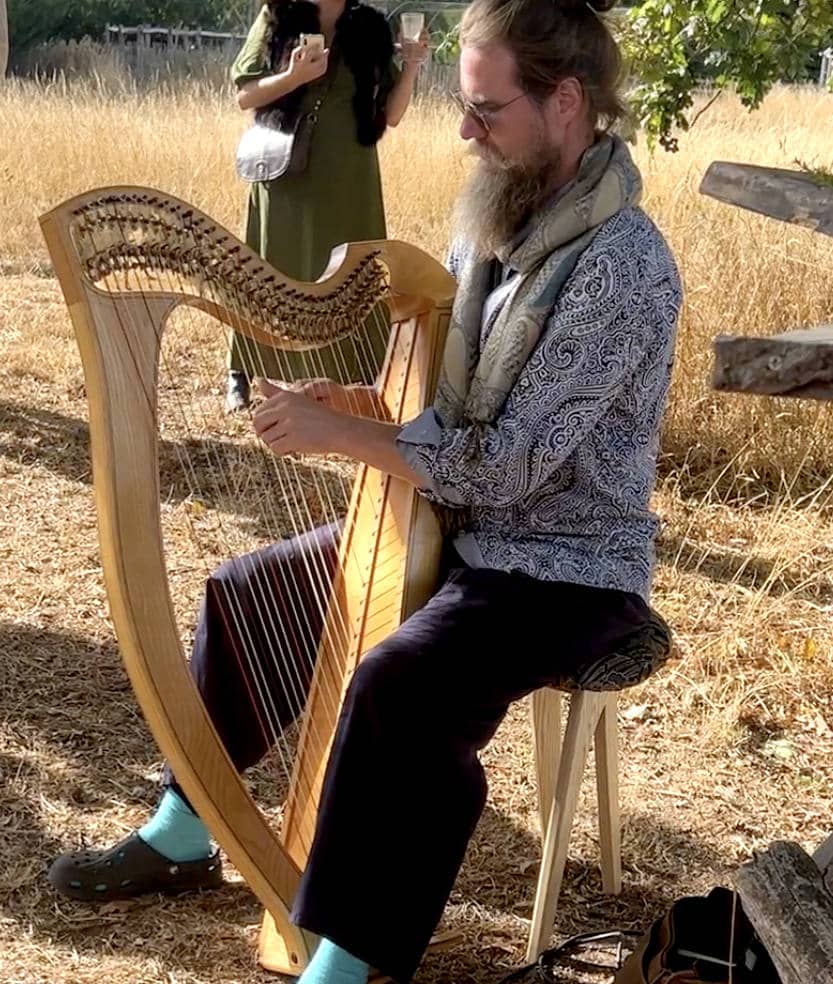 During my time alone I did a bit of a recce on where we would be eating, the kitchen tent and the compost toilets!  Now I'm all for eating out in the wild but wild and natural toilets are another thing altogether, but nature was calling.  To say that they stank might be a very slight exaggeration but the smell wasn't good – they had clearly been used before, several times.  The battery operated light worked on movement and the toilet seat was nailed down (what sort of people were they expecting here?).  There was a candle flickering and one of those jars of oil with sticks sticking out. Frankly proper Incense sticks might have been more effective.
But it was what it was and the owners of Nomadic had been to a bit of effort to make it look relatively pleasant, all be it 'au naturel'. 
What confused me was the fact that the adjacent communal sink that was on offer had running water (a blue pipe trailing from somewhere through the woods) and there was a fair bit of lighting* running around, but none in the toilets.  
As the foragers returned we were allocated our places at one of four tables – it turned out we were on the celebration table along with fourteen others who were also celebrating something.  Each table was quite a way from the other tables, like four separate dining rooms in each wing of a stately home. As it was to transpire over the course of the evening it was a shame that prior to going foraging that groups weren't put together as per tables*. I say this as there is no way that sixty-four people are going to bond but maybe two tables of sixteen might have had a decent chance. Unfortunately what did happen is that four tables of sixteen didn't interact at all.
After a bit of getting to know our group, two anniversary couples, four birthday couples and us we toasted each other with our free glass of fizz and awaited our food with baited breath.  One couple went and bought a bottle of wine and it was only at this point that any of us realised there was a bar – so drinks were ordered.
Oh, there was a singer and a guitarist over by the fire pit too, but I regret to say she was so far away that her serenading of us was lost in the noise of the diners conversation and the noise of the kitchen area.
Our first course was a Portuguese styled Gazpacho, courtesy of Daniel, he of the mackerel. He came to our table to introduce our food to us.
Basically it's a normal Gazpacho with bits in it.  Saying normal is incredibly unfair as it was delicious. It was creamy with slices of various vegetables including pickled onion, blow torched cherry tomatoes, succulent prawns and a dribble of herb infused oil adding colour, texture and a wonderful fresh taste.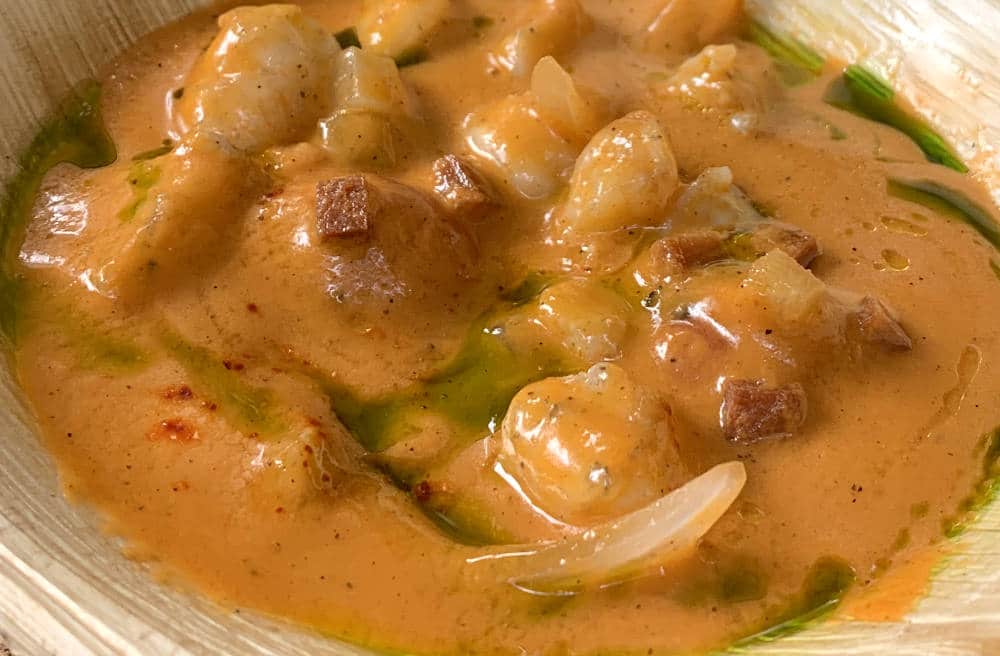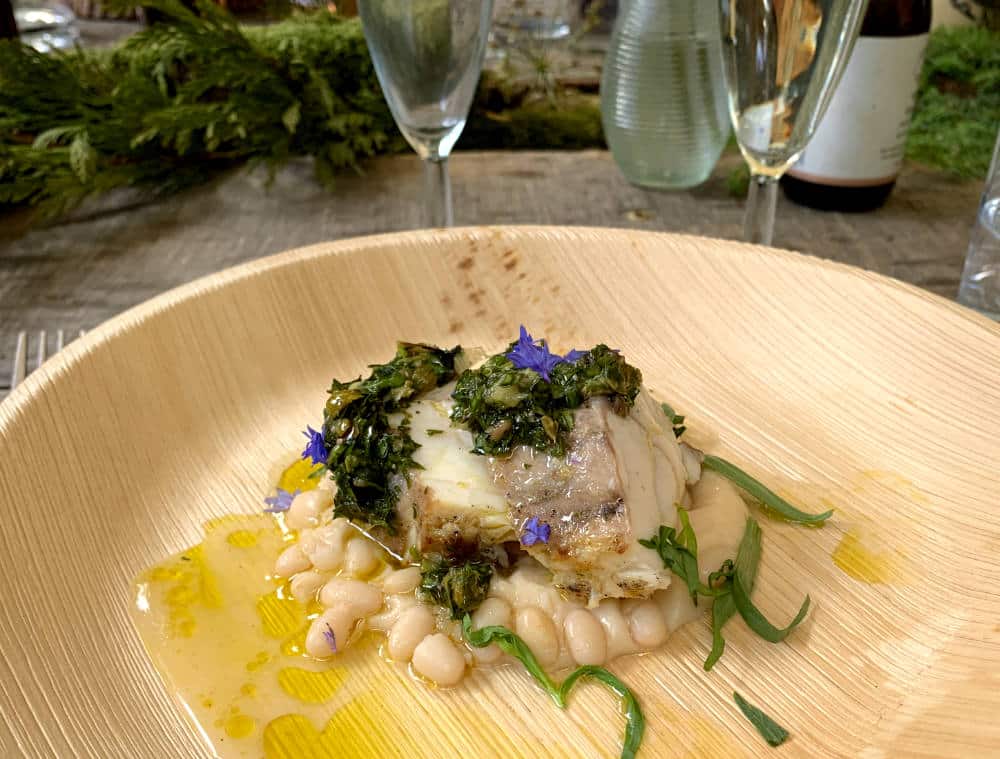 The fish course was Monkfish with Cocoa beans, introduced by Ryan, which looked lovely but slightly pale. 
I'm not sure how long it had seen the BBQ for as it wasn't coloured by the heat very much and mine was also strangely tough and stone cold, which was disappointing. 
Cooking for sixty-plus people in tents must be quite a challenge and I think Daniel's approach of preparing ahead and serving a cold starter was the best option. 
Our main course was created by Dan Lee who after a bit of cajoling came over to our table to introduce himself and the food – as it was about to suffer the same fate as the Monk Fish we had already eaten most of it.   
Sticky rice with Pak Choi and three slices of marinaded, Asian infused pork resting on top. Very nice, but not very warm and not enough pork to make it a pork dish with rice, this was more a rice dish with pork. It was quite dry with no sauce !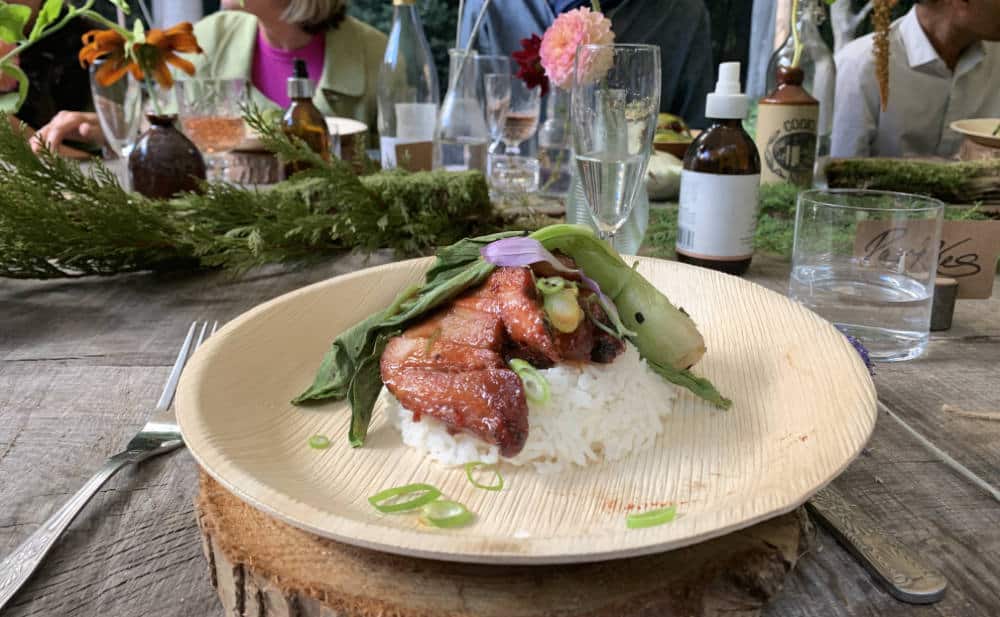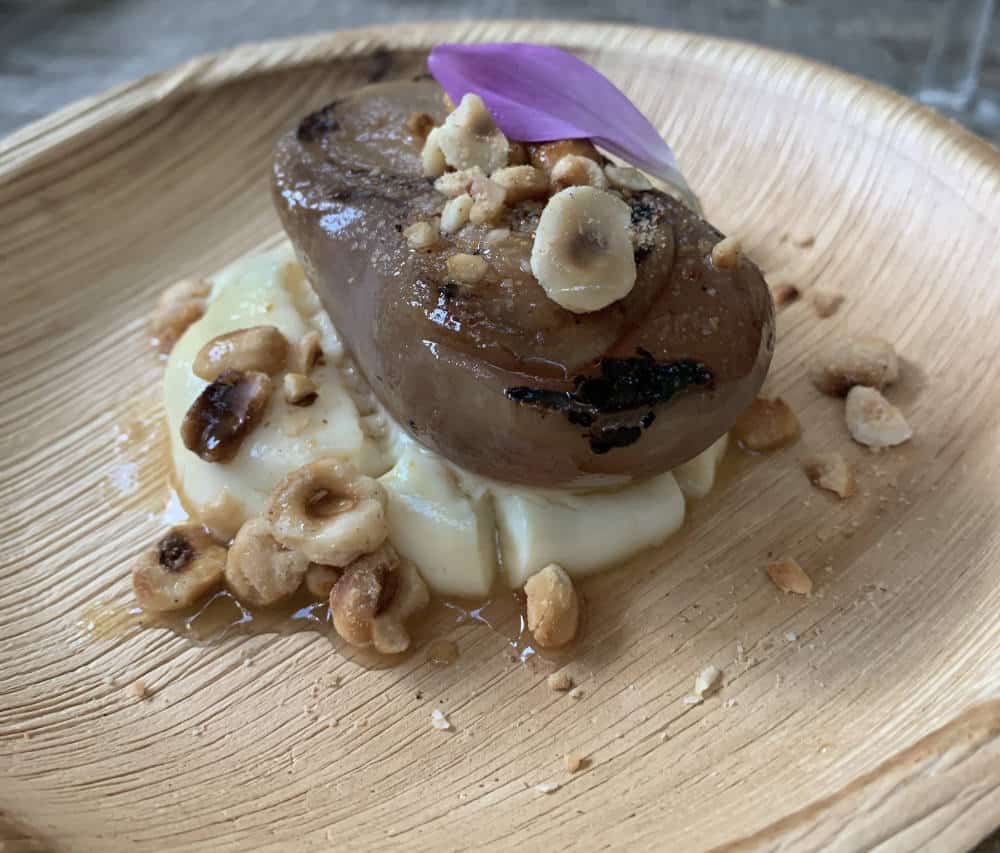 As we waited for our desserts to arrive we did a bit of a poll amongst our table of diners.  Unsurprisingly Daniel won this round as well. Not just because it was designed to be served cold but because hand on heart it had the best flavour, looked the nicest and was something we all wanted to eat again. 
I'm not sure who created the desserts, it may have been a joint effort, but it wasn't great. A limp, cooked grey peach, with skin on, nestled on a Creme Patissiere with a small trickle of sweet sauce and some hazelnuts. Consensus on our table – The worst course of the evening.
After our plates had been cleared away we were told to go and enjoy some marshmallows around the fire-pit. Unfortunately, I think we were the last table to be shepherded over to the logs encircling the fire. In consequence, the first table had sort of set up camp and there was nowhere to sit. Instead of it being full of friendly sugary toasting we all stood awkwardly around leaning over one another to cook our Giant marshmallows. 
We were offered foraged tea which I was reliably informed by some other diners was not great – even one of the waiting staff said it was rather unpleasant!  "Do you have coffee?" I asked. 'Only for the staff' was the reply. Actually, with Marshmallows, I'd have thought a nice steaming mug of hot chocolate would have been nice. 
expectations exceeded reality
Maybe our expectations were too big. You see Masterchef finalist on an advert and you immediately think 'that's going to be amazing, without appreciating the enormity of staging an event in the woods. The woodland, the tents, the BBQ, the amount of people,  the compost loos !
Now I realise that this review of the food and the evening makes it sound like it wasn't a great time, but it was. It was fun. It was pleasant mixing with our fellow celebratory diners and nice to eat in this bit of Buckinghamshire woodland.
And the chefs were great. 
I'm sure that it must have been extremely disheartening for them to cook in an unfamiliar environment with temperamental charcoal and no warming area. 
 I could see with each dish what the aspirations were and they were laudable – sadly let down by the logistics that they had no control over.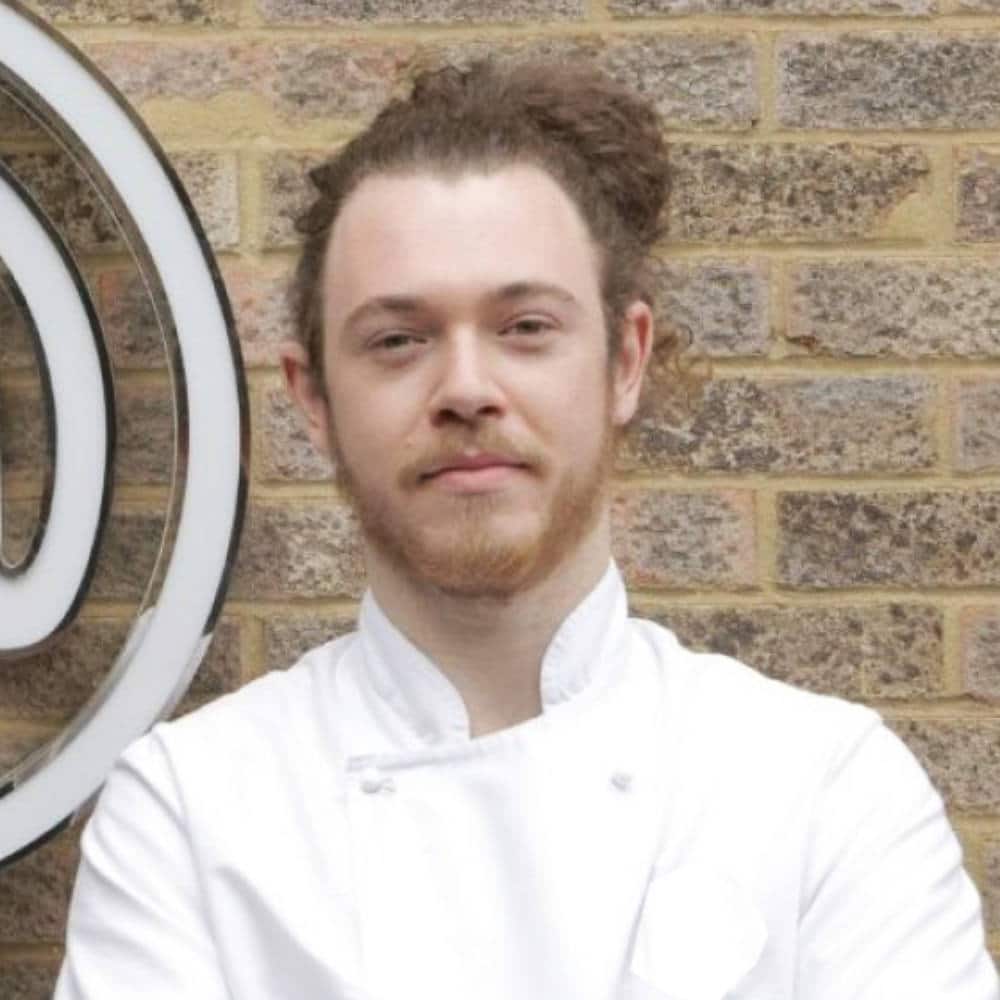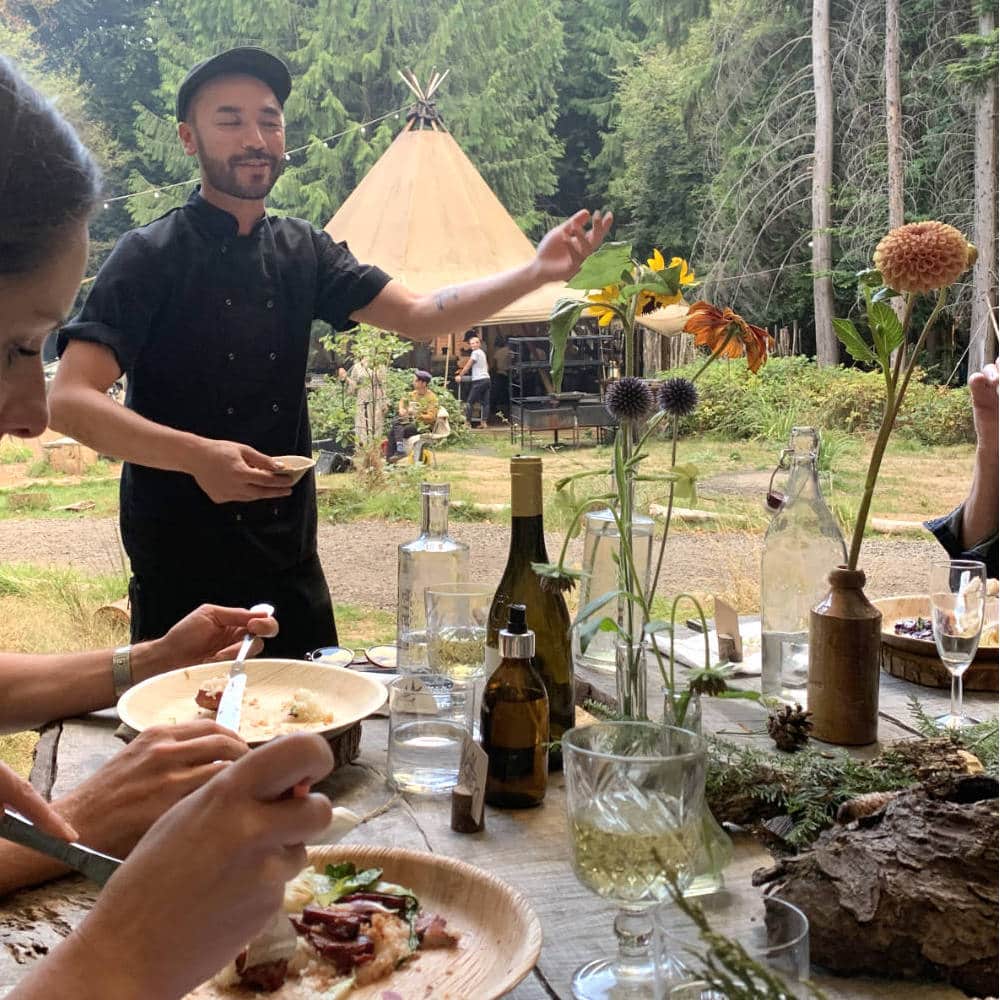 Yes, I think so. Maybe we were very lucky with our fellow diners as there was a good sense of bon amis and a pretty eclectic mix of people. As we were all celebrating something our predisposition was to have fun and enjoy ourselves, so with this, conversations flowed from one end of our hand crafted log table to the other and was great fun.  Throw in a harpist, a G&T, a mackeral canapé, a bowl of Daniel's Gazpacho and we were away. 
The toilets – ghastly.  The dangerous lack of lighting from the dining area to the car park field – necessitating us to use the torches on our phones to navigate the lumpy ground was a big mistake and an accident waiting to happen, IMHO.  The limited seating around the fire pit.  The temperature of the food. The lack of coffee, normal tea (or hot chocolate).  The size of the group and most significantly the lack of occasion.  These were Masterchef finalists for crying out loud and there was no introduction from the organisers or any warm words of thanks at the end – they and us I guess, just disappeared into the mystery of the woodland.  It might have been nice to get to know them, even just a little bit or show some appreciation for their efforts.
In my opinion I think Nomadic Dinners is a great idea but they need to work on logistics and fine tuning. It all started very nicely but progressively didn't deliver.
It's also, in my personal opinion, slightly confused. It called itself a Woodland Feast with Masterchefs – so why the foraging? We weren't foraging for our own food, so I didn't quite get that bit. I also didn't think the disposable palm leaf plates worked really. Whilst I'm all for sustainability, it was odd that we had real glasses and metal cutlery but disposable plates that added nothing to the appearance of the meal. and certainly did nothing to retain warmth for the food.
On this occasion I think the organisers maybe took on too much. Too many chefs and too many people. The ambition of the evening is to be applauded but had there been just one chef and a few assistants, one less course of food maybe and half as many people it could have been better. In fact one very large vat of Daniel's Gazpacho, a ladle and few slices of bread and our table would have been very happy.