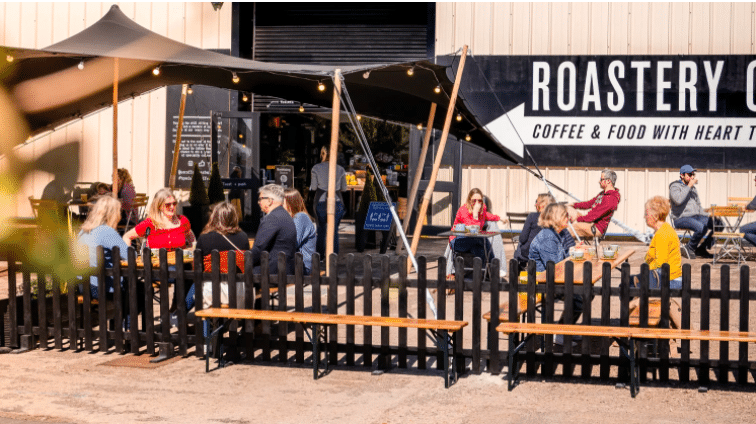 UE Coffee Roasters
User Review
Hidden away, at the back of the Windrush Industrial Estate, is one of Witney's best kept secrets, UE Coffee Roasters Cafe (UE). Their only advertising is a grey sandwich board, abandoned on the Burford Road for a few years, directing you into a banal 1960s industrial estate. Based on this enticing invitation, you'd be forgiven if your expectations were low, maybe a kebab van with some folding chairs?
As you approach, what you see is a huge beige nomadic tent with outdoor tables and benches for nearly 60 people. On a sunny day, you'll find Witney's hip crowd here, they only take up one table, so there's room for everyone else. Dogs are welcomed, as are bikes and there's even a massive free car park. A worthy mention also, that the entire cafe is disabled accessible, very flat and easy to get around, no carpets etc.
Going inside, you're probably going to join a queue, where you stand next to beautifully packaged foods from around the world, nothing is priced. You know that saying; "If you have to ask the price, you probably can't afford it". I picked up some chocolate recently, it was beautiful, at the till it was £15. Obviously, I put it back, I'd rather spend the money on 10 minutes of heating this winter.
Let's get to the good bit, the cafe is beautiful. It's a double height coffee factory, filled with plants. In the middle of the factory is the serving counter, to the left are indoor tables and chairs. There is another (much warmer) seating area, in a room to the right, filled with hanging plants. This is the original coffeeshop, before it expanded. They'll be some new upstairs seating opening soon too. The gigantic coffee bean roasters are in the main cafe, as it's still a working factory and they're in daily use – it goes without saying that the coffee here is fantastic. It's their real business and they are very good at it.
The food is limited but good, typical avocado on toast, eggs and salmon, type of lunch and normal prices. And if all this wasn't enough of a wow factor for sleepy Witney, they also have special events – which they obviously don't advertise – like live music evenings or specialist dining.
In the summer you'll be hard pressed to find a seat at the sunny outdoor tables, if you can't squeeze in, just get the coffee to takeaway. The best of their fabulous cakes are the homemade Cinnamon buns, which sell out before 11am. You can buy them to cook at home, they're in the deli freezer (£9.50 for four), but it's not the same.
Trust me, UE coffee here never disappoints. And if you've never heard of the the Windrush Industrial Estate, that's probably because of another of Witney's best kept secrets. It's the home of the South Korean Mint. South Korea quietly prints their currency in Witney, for safety and privacy. So don't tell anyone, ok?
UE Coffee Roasters 10/10
UE Coffee Roasters
Windrush Industrial Park,
Linkwood Road, Witney,  OX29 7HA
Monday to Sat 8:30am to 5pm
Sunday 9am to 3pm
Disabled accessible.
https://uecoffeeroasters.com