All opinion articles are independent and not paid for by any establishment
Chinese New Year at the Cambodian in Witney
The Food at The Carpenters Arms in Witney is Superb
Chinese New Year is commemorated in several countries including China, Japan, South Korea, Thailand, Indonesia, Taiwan, Singapore, and Cambodia. I, therefore, felt very fortunate that the Cambodian 'Carpenters Arms' restaurant in Witney had a table available on Tuesday evening. I expected the restaurant to be heaving, decked out with festive lanterns and the staff to be wearing garish costumes. It was none of these things. It was just a normal night in the Carps as some locals call it.
The recent refit of the restaurant seems to be complete although there is still illuminated scaffolding in place leading to the car park. The entrance is, at it was, through a narrow doorway at the front with a slightly irritating handle that you have to turn what seems like the wrong way to get in.
Not quite Phnom Penh but the food could have you fooled
The dining area was very cold and so I asked the young woman if we could sit somewhere warm – she indicated a table in the rear (I think this is the new bit) near a ceiling fan heater. Sadly the heater didn't seem that efficient as it was still very cold, hence our group didn't take our coats and scarves off.
The refurbishment of the restaurant left me feeling not just physically cold but emotionally cold too. This is a fairly old building with wooden beams and what should be a cosy feel-good feeling, but instead, the decorations have swamped the rear of the restaurant in modern dark grey tones and bland lighting more suitable to a modern advertising agency than an Oriental restaurant on the edge of the Cotswolds.
As we sat, huddled up, I thought how nice and charming it would have been had the wood-burning stove in the front part of the restaurant been lit – maybe it's for decoration only, which would be a shame. 
Thankfully I had been here before the recent works and had a most enjoyable meal, so despite everything I was sure the food wouldn't let the place down – and I was right.
Our group of four pushed the New Year boat out and shared platters of Cauliflower, Squid, Beef and Chicken. 
The Vegan Angkor Cauliflower – battered with a sticky sriracha sauce, was frankly amazing. Taking a fairly mundane vegetable like the cauliflower and turning it into something that I would happily have devoured three bowls of, is something of a feat and in itself worth going back for. Chilli Squid – battered squid with chillies that promised to be hot and fiery but was a shade disappointing on the heat front and also in too big pieces for my liking. I like to be able to eat my squid complete with masses of chilli straight off the plate without using a knife to cut it into bite-sized portions. Sriracha Wings – in the same sauce as the cauliflower but not as crispy. Pleah – Cambodian beef salad with a fragrant and zesty dressing that was simply delightful and a massive hit with us all. My wife and I very nearly came to blows at who could have the last few mouthfuls of the accompanying herby vegetables.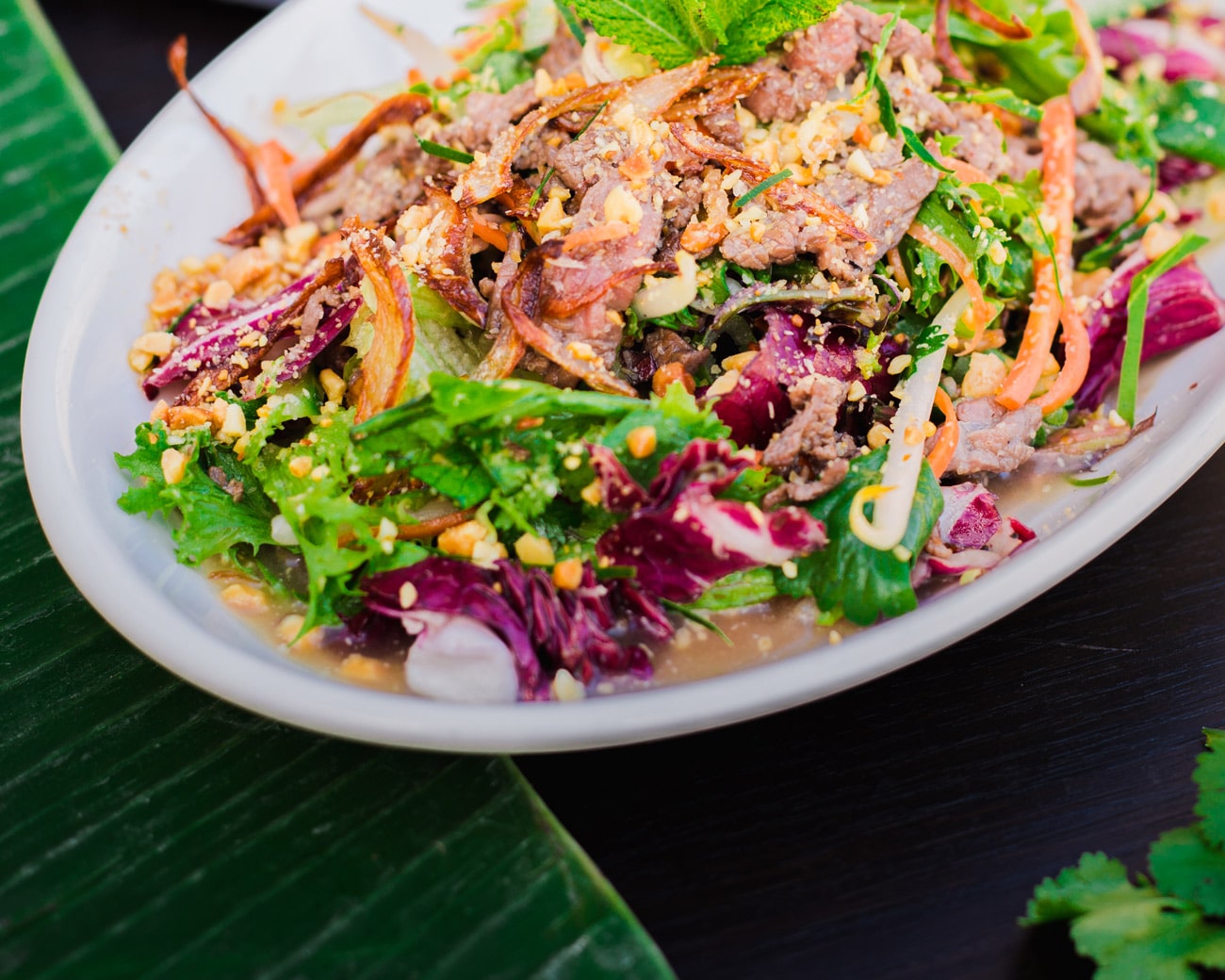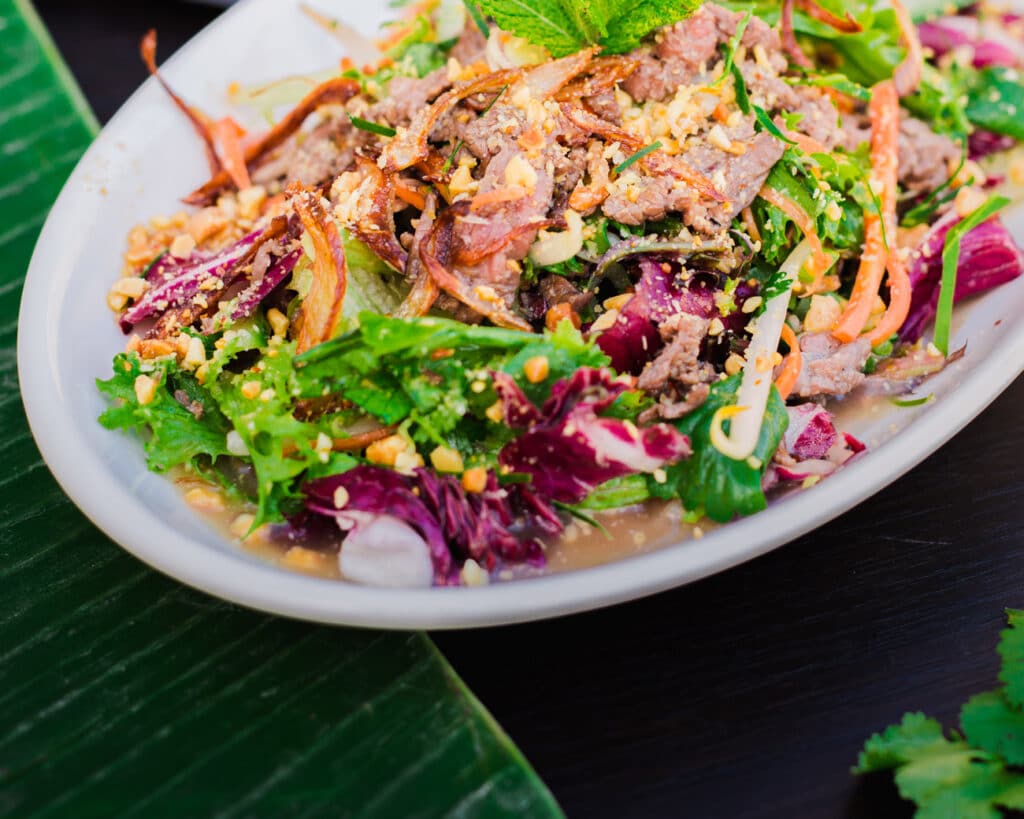 For mains, we indulged in: Koh Kong Seafood – Sautéed mixed seafood, which was fairly spicy with a few scallops, some fat juicy and tender prawns and a large piece of unidentified fish it was very satisfying and moreish although to be picky a few more than just two mussels wouldn't have gone amiss. The Ginger Tamarind Duck – sautéed duck breast, was very nice and uncomplicated. The Cambodian Loc Lak – steak caramelised in sweet soy sauce, looked on the face of it completely overcooked, but inside the pieces were melt in the mouth bonbons of beautifully cooked, medium-rare steak in the yummiest sauce. A bowl of unctuous sticky rice arrived with each main and was lovely – I was so tempted to do what I've seen some Orientals do and pick it up in my fingers and use it to mop up the sauces. 
Although we didn't need them we also ordered a Pad Thai – rice noodles with pork and a spicy Kohkong Noodle. I've mentioned in other reviews that my wife's Pad Thai (she doesn't have an Oriental bone in her body) is simply the best I've ever tried and in consequence, we always order Pad Thai when it's on a menu to see if it in any way lives up to hers – they never do. However, the Pad Thai at the Carpenters Arms is pretty darn good. 
Needless to say, we needed a doggy bag at the end of the meal, but not for much it has to be said, mainly just for the noodle dishes, which I enjoyed cold for breakfast the next day.
I love this restaurant and feel incredibly lucky that Oxfordshire has such a wonderful place to enjoy Cambodian food so I feel bad about levelling criticism at the place because above all else I want this place to survive and prosper. However, apart from the cold and the less than welcoming slate grey colour walls, which is after all just a personal opinion, I must voice just a little moan about the place. When a waiter puts down empty plates in front of you, it might be good, if they handled the crockery with a serviette rather than leave visible fingerprints on the plates that we are just about to eat off. It's just a little thing but this small lack of attention to detail lets the place down. 
Pictures courtesy of Carpenters Arms Facebook Page