All opinion articles are independent and not paid for by any establishment
The Portions were Gargantuan
Having eaten a not particularly good breakfast at The Double Red Duke, a sister hotel to Chequers, I was a little concerned about my dinner booking for three of us on Sunday.. 
We arrived at seven thirty and were shown directly through to our table in a rather grand room decked out with all sorts of antiquarian bric a brac that made it seem both homely and slightly ostentatious.  This particular dining room, (I believe they have another two rooms which are lightly smaller) was nice, airy and quite informal. It was also quite cold. Certainly cold enough that none of us took our Coats off.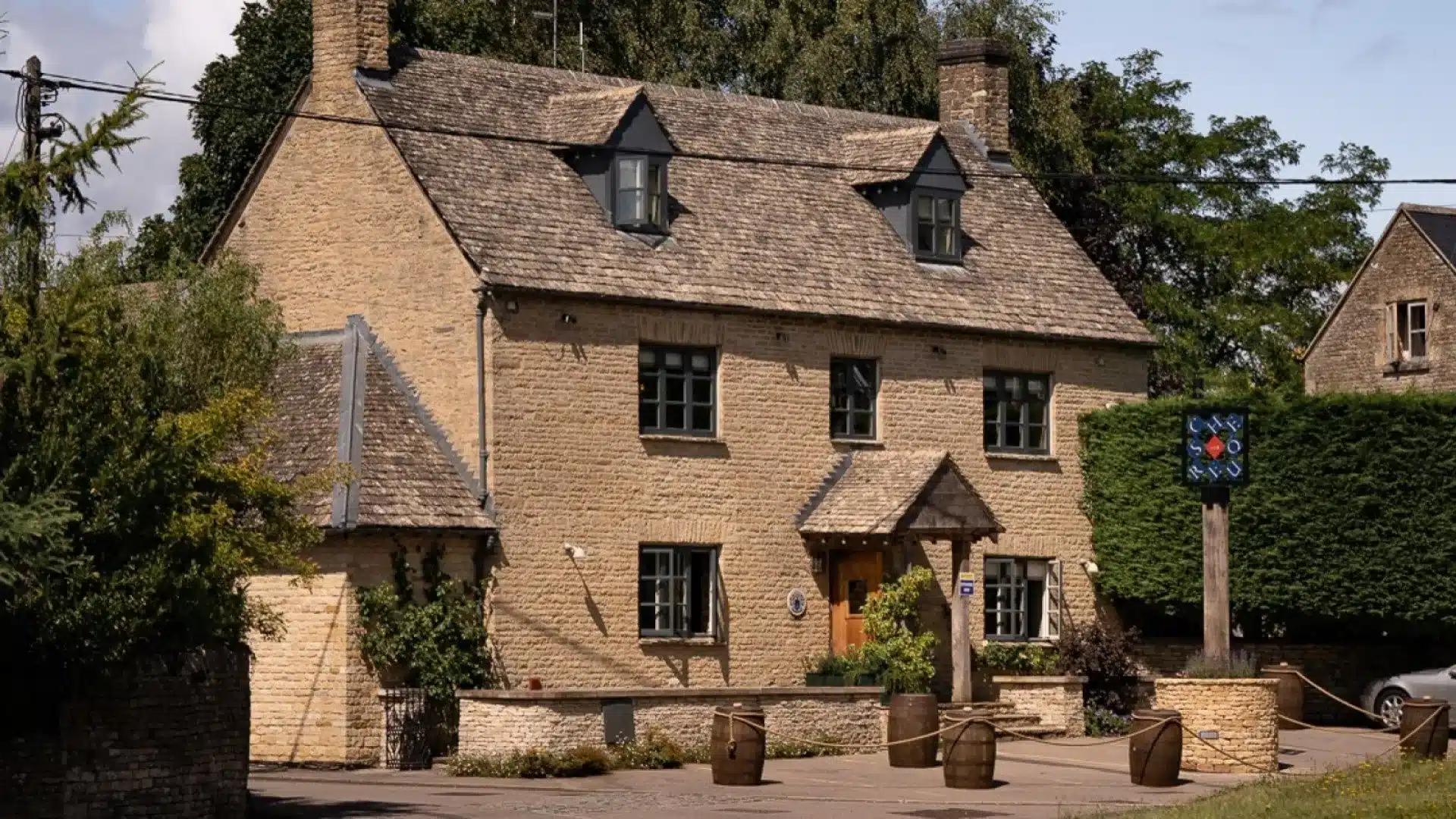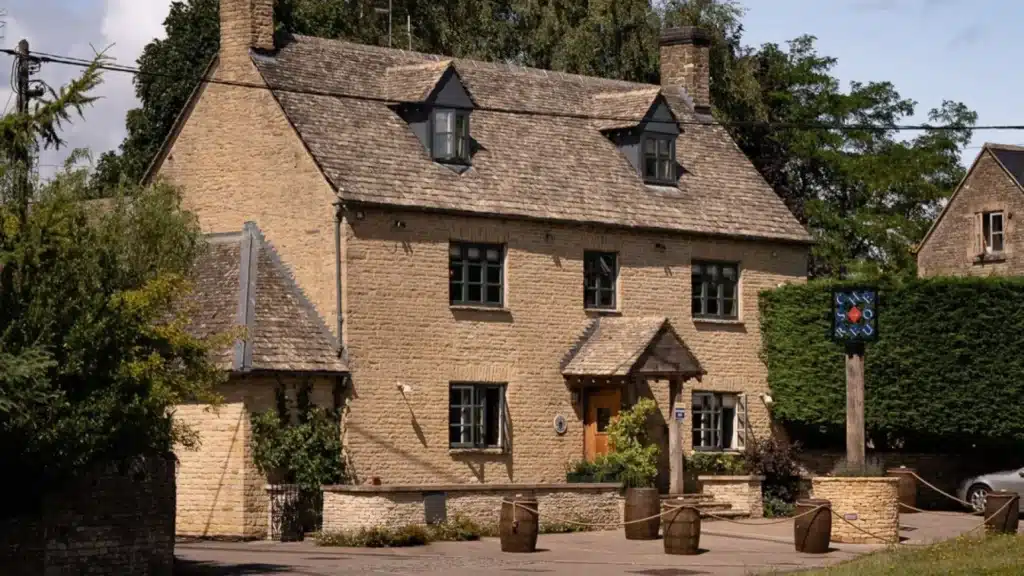 My wife was a very happy bunny
After a respectful amount of time, a delightful young woman came over to bring us a chilled bottle of tap water and to advise us of various things on the menu.  Her name was Grace.
Scanning the menu I saw that the Chequers serves Devilled Kidneys as a starter – I'd already had for breakfast at the Double Red Duke, in Clanfield. Obviously this chain buys Kidneys in bulk, which as someone who loves Liver, Kidneys and all the debatable parts of an animal, I'm actually very happy to think.
As a group we decided to forego starters, although they all looked pretty good; Mackerel rillettes for £9, Steak tartare £12 and Twice baked cheddar soufflé £10.  Had I not had twice baked cheese soufflé (Roquefort and griddled pear), the night before at Pierre Victoire in Oxford I would have been very tempted.
Grace made a few suggestions on what to order and said that the haddock was great and that the chop was her favourite, served with a cabbage side that apparently took many days to create.
For our main or as it was to become, our only course, my wife ordered Grace's suggested  Smoked haddock & potato gratin with poached egg, hollandaise & spinach (£18.50). This according to Grace is a firm favourite with regulars and back on the menu by popular demand. I, along with my 89 year old mother in law, ordered Grace's other suggestion, the Pork Chop.
The smoked Haddock looked wonderfully and almost glistened in the dimmed lights of the Chequers dining room. According to my wife it was beautifully cooked with moist flaky fish and the Hollandaise covered Spinach was a delight.  She was a very happy bunny.
Even including various trips to America where portion sizes tend to dwarf ours, I don't think I've ever been served such an enormous piece of meat in my life. It nearly filled the plate completely (see picture). I'm sure the chef had the best of intentions but rather than be thrilled I found it a little daunting. My Mother in Law, who hasn't go the largest appetite in the world, seemed horrified.  Luckily it was served with a very nice cabbage and sausage concoction and a few potatoes to give the diner a little respite from the carnivorous challenge ahead.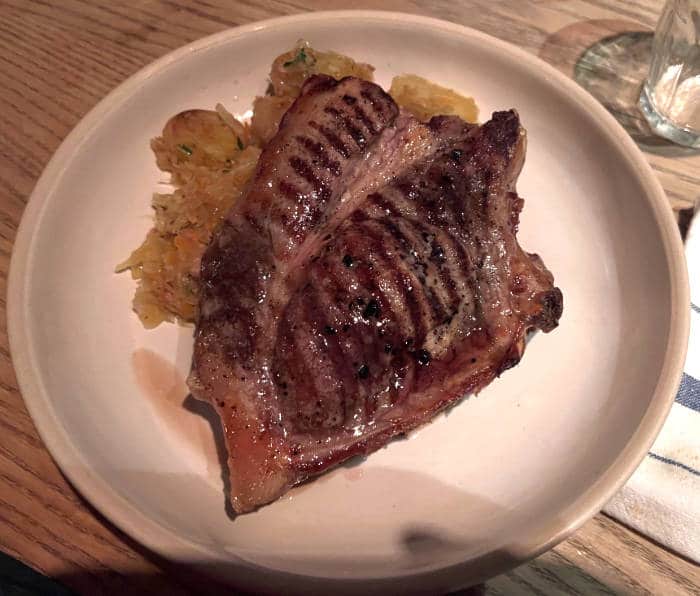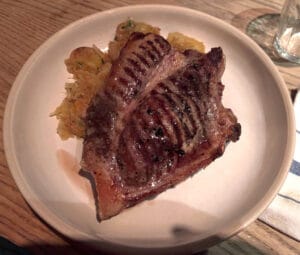 The chop was very tasty and maybe because of it's thickness it kept it's moisture so was very pleasant to eat. However after I had struggled to consume the first half I started to feel that this task may be greater than I could manage.   I'm not a small chap and my appetite is usually beyond others but this was gargantuan. 
Proudly, but with a little discomfort in the belt department, I consumed the beast, but my poor mother in law could only manage half at most and I think even that was uncomfortable.
When Grace came over to ask us if we would like to see the dessert menu I almost fell off my chair. 'Are you joking' I exclaimed.  The desserts did look quite good but a 10 mile walk and a lay down is what was needed after that endeavour.
All in all, very pleasant but too, too much, in my opinion.
Over the last few days, as we celebrated my wife's birthday,  we have eaten out a fair amount (4 restaurants in four days actually). Obviously trying various restaurants and their offerings has been a delight but one thing has stood out more that anything and that is the quality and manner of the staff.  We have had waiting staff who seemed indifferent, tired and nonchalant and we have had exemplary staff like Karis and Grace at Chequers. If I had a restaurant business I would snap Grace up in a heartbeat.
What made her so good? She was just very personable, fun, polite and went above and beyond to make our dinner as good as it could possibly be and she could read body language which is an even better attribute.
Will I go back? Yes absolutely, but only if I'm really hungry.