All opinion articles are independent and not paid for by any establishment
A clean, airy decor with a river view - maybe
My wife and I had a busy but all together pleasantly relaxing day in Oxford on Saturday.
Whilst my wife enjoyed a back and shoulder massage at Thy Spa in Cowley Road, I watched the world go by whilst having a couple of very nice Americano coffees at CoCo / Kasbar.  Had it been slightly warmer outside it would have been idyllic but it was still very pleasant wrapped up in my winter coat.  Whilst waiting for her I booked a table for lunch at The Folly, on Folly bridge. 
After her massage, which she said was wonderful by the way,  just the 'right side of unbearable pressure' we caught a cab to the Head of The River pub at Folly bridge to have a drink before our lunch at the restaurant on the other side of the River Thames. 
As a Londoner, although an ex-Londoner would be more to the point, not having lived there for over 40 years, I always considered the Thames to be a vital part of my existence. Sometimes one's whole life was defined by whether you were north or south of the river.  So drinking on the North side and lunching on the South side covered all bases as far as I was concerned.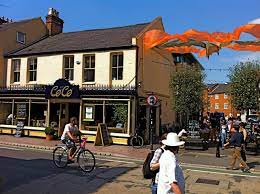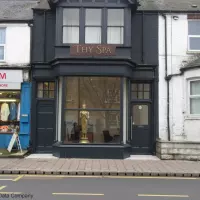 Fish and Chips seemed to haunt us
The Head of the River was nice enough. In my drinking days I would have happily sunk a few pints of London Pride bitter and yet again watched the world pass by. Now it was a Coke whilst watching my wife slowly sinking a Gin and Tonic.  The smell of Fish and chips, which did look amazing, permeated the entire bar, which we both found a little oppressive. However, it was to be just a quick drink so no matter.
After twenty-five minute of inhaling the odour of `Cod in batter, we started walking across the river to The Folly.
The Folly is somewhat of a complete opposite to the Head of The River. For a start its decor is very modern, clean and bright and it doesn't smell of fish and chips.
As a last-minute booking we didn't have the luxury of a river view table and were seated at the rear of the restaurant. Any view of the river from here was blocked by a plastic-covered tent/awning that had possibly once been providing cover for alfresco eating.
On the menu it had specials, I do like a special, and Folly favourites including Seafood Linguine, burger and almost as if to haunt us – Fish and Chips. 
Unusually I had no complaints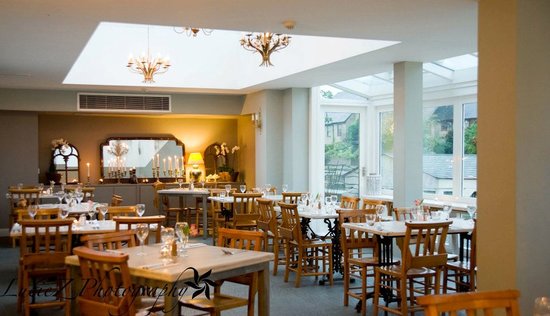 'Well, we will give that a miss', I said. We scoured the menu of delights and I plumped for the Slow Roast Pork belly with smoked buttermilk mash and apricot puree. 'I'll have the Fish and Chips' my wife said, which came as a bit of a surprise to me I have to admit.  'Somebody behind you had it, and it looks really nice', she said.
When the fish arrived I could see why she had chosen it. Glass like batter on a Cod fillet that struggled to fit on the plate, along with chips, peas and a homemade tartare sauce,   The fish was great, crispy batter and a moist succulent fish. However, the triple cooked chips, although not worth complaining about, were certainly not triple cooked properly – slightly limp and not at all crispy.
My Slow cooked pork was served rolled with accompanying pork and apricot bonbon, red cabbage, Cavolo nero, Romanesco Cauliflower, smoked buttermilk mash and a nice rich sauce to boot.  It was all a delight. The pork was wonderfully tender, the vegetables crispy without being the wrong side of raw and the intriguing smoked buttermilk mash a little piping of heaven.  I had no complaints whatsoever but even with this wonderful plate in front of me, I found myself wistfully eyeing my wife's slab of glassy cod.