All opinion articles are independent and not paid for by any establishment
Antep Kitchen, a Turkish feast for the senses
In a nutshell – quite the loudest and buzzing place I've been to in years
I've lived in Oxfordshire for years but this was my first excursion to Cowley Road.  From my initial experience I would say this is not a place for the faint hearted.  It was buzzing and if we throw lockdown and social distancing into the mix it was insanely buzzing.
As my wife and I walked up from Magdalen Bridge it truly felt like we had stumbled upon a Soho street, heaving with people fuelled on a mixture of exuberance, and alcohol.
We walked past  a night club or two, lively bars, numerous take aways  and busy restaurants including what looked like a Mediterranean bakery complete with soft square seats outside on the pavement. It looked fun and it was great to see so many smiling people enjoy their drinks and nibbles.  Where we really still socially distancing – it didn't seem so!
Eventually we found Antep Kitchen. As the sliding door of the restaurant slid open the noise from within took our breath away and obliterated the sounds of Cowley Road completely. Then the door slid closed and all was calm'ish again. 'I've never heard anything like it' said my wife. This certainly wasn't going to be a cozy intimate dinner for two!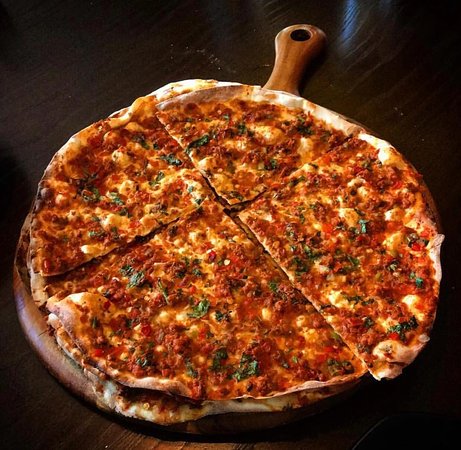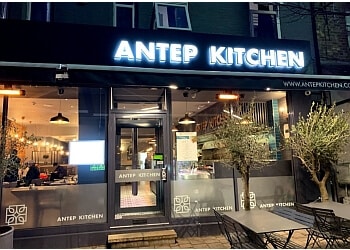 The noise was something else ! But it was amazing.
As we waited to be seated it was honestly impossible to hear each other talk so we gave up and just marvelled at the throngs of happy Covid 19 ignoring groups that were hell bent on having a good time. As we stood near to the chefs grilling their meats we were wearing our facemarks which felt disturbingly  usual whilst also awkward.
After ordering some drinks we studied the menu. Antep's is a Turkish restaurant which specialises in Gaziantep cuisine. Some of the menu could be described as fairly standard I think. Humous, Taramasalata, Olives, Shish Kebab, etc.
However and it's a big however, any similarity to your standard local kebab place or Waitrose Houmous is as far away as you could imagine.
The faint smell of Charcoaled cooking and charred meat wafting across the restaurant every time the automatic door slid open was making me ravenous.  
Along with the complimentary Turkish bread and dip, we ordered a Lahmacun Pide (a very thin Turkish Pizza) covered in minced lamb and onions and some Humus for starters. 
For mains we weren't very ambitious but we couldn't resist that char grilled hit. Lamb chops and a Mixed Kebab – Chicken Shish, Lamb Shish and Adana Kofte.
The Humus (sic) was wonderful with a hint of lemon but the stand out was the complimentary red dip that came with the bread – gorgeous. The Pida was just brilliant, moreish and just the right side of decadent without being over filling.
The our mains arrived and we did our usual routine (and to some rather annoying)  of splitting what we had ordered into two and shared everything apart from my Couscous and my Wife's Salad (which was lovely by the way and very different to the usual green leaves one can be served up).
I hate couscous by the way and always have. To me it has no redeeming features whatsoever and I always leave it on the side of the plate, almost in protest at being served up the rubbish – but maybe I'm just a carnivore. However this Couscous was amazing and I polished off the whole lot – it was citrusy, flavourful, not over cooked or stodgy and scrumptious.   
We both agreed that the Lamb chops were okay but not particularly special. The Lamb Shish was really good as was the Adana Kofte (although the Adana wasn't my wife's favourite as it was' a bit fatty) . The Chicken Shish left us in raptures and was absolutely amazing. My wife immediately complained that she'd shared it with me which was a great sign. Next time and there will be a next time I would order a whole plate full of Chicken shish and I think my wife would too.
Sadly but at the same time, fortunately, they had run out of Baklava otherwise I might not have been able to walk.
As hard as I could try there was nothing much to fault at Anteps, except for a bit of dodgy social distancing, oh and why do Turkish restaurants only give you one very small square of Turkish delight?
To use Arnie's old saying 'I'll be back'.
I've been to Anteps a few times now
I've never been disappointed in the service or the food at Anteps. They are incredibly efficient. A little surprised maybe at the lightning speed of service, which maybe they could take down a notch, but I've never been left waiting.
On our second visit to this place we took our eighteen year old son Jamie. As he dived into the plate of freshly cooked flatbreads with the accompanying sauces, he looked like he'd not eaten in a week. Then when the Pida arrived, he was in heaven.  We had ordered two Pida for us all, they're about twelve inch diameter,  but with the exception of a very small slice for my wife and I, Jamie trough the lot.
Surprisingly he still had room for the mixed kebab of Chicken, Lamb and a Shish although couldn't manage the rice or the salad – what kid does I guess?
My only small gripe and it is small because everything else is great, the wonderful couscous that I enjoyed on my first visit has never been as good since. Not quite as crunchy or as herby.