All Opinions are independent and not paid for by any establishment
A touch of Sri Lanka near Headington, Oxford
In a nutshell – its shabby chic, the staff and food are great and I experienced tastes I've never had before
Regular readers of I Love Oxfordshire mght be familiar with my obsession with parking. It's not so much OCD as a dislike of walking !
Driving up Saint Clements Street to The Coconut Tree I wondered where on earth I was going to park.  If I was younger, more street wise and less of a technophobe I might have considered one of the Electric scooters parked adjacent to the restaurant. When they're legal I may buy one and keep it in the boot of my car so I can finally be the free spirit I've always wanted to be!
On entering The Coconut Tree I wasn't immediately transported to Sri Lanka, as for one I've never been to Sri Lanka and two this place wasn't particularly Asian in it's decor. It was certainly casual, with bare wood tables, old tins on the tables holding cutlery, rolls of kitchen roll as serviettes, empt bottles of Ceylon Arrack (Sri Lankan Whisky) and bare brick walls with visible metal trunking.  
It has a courtyard, that was full when we visited, but looked lovely and relaxed. 
Relaxed is maybe the word to describe the whole place and ambience. Young cool staff are laid back but also quite attentive and the whole 'vibe' is rather chilled.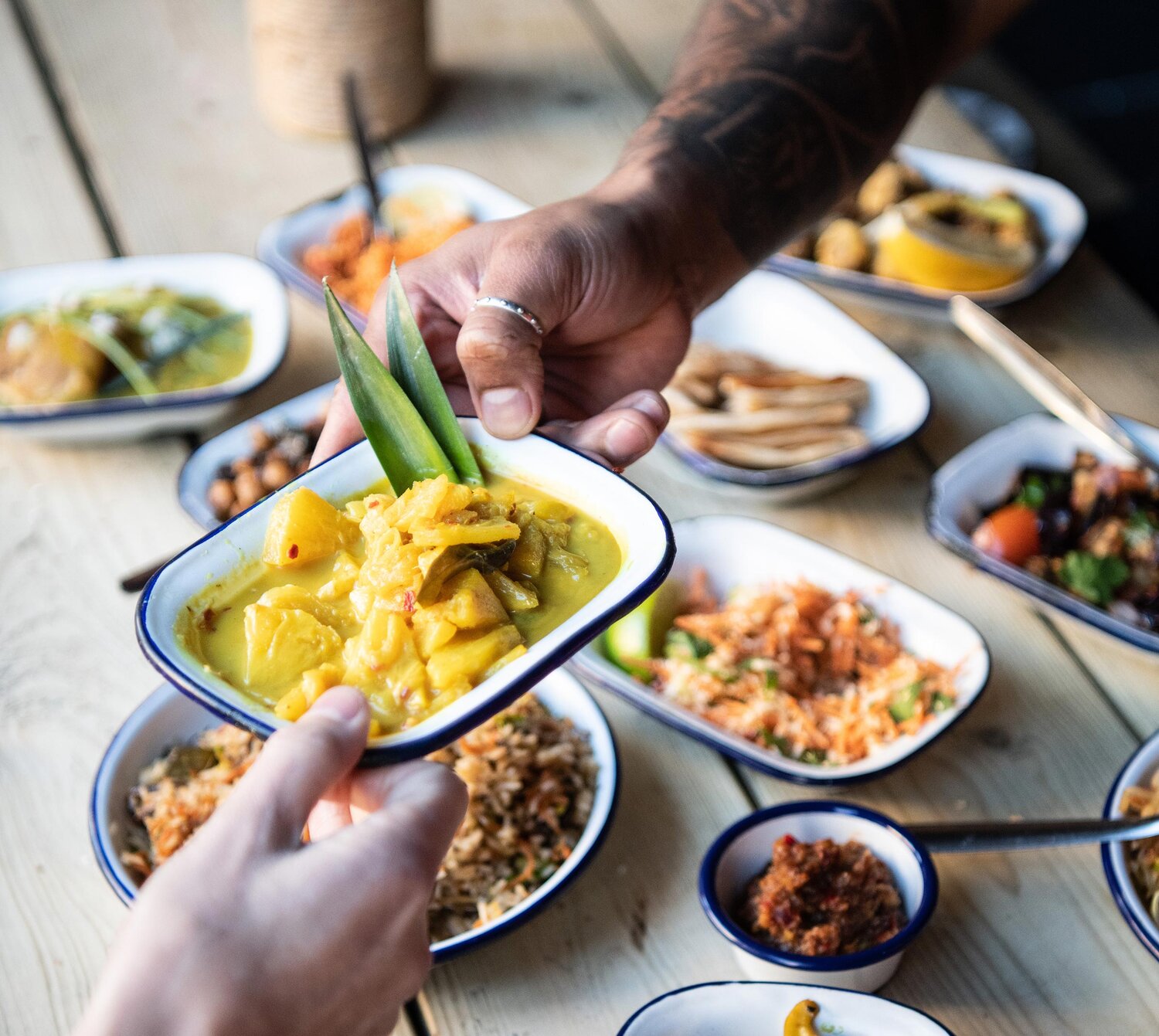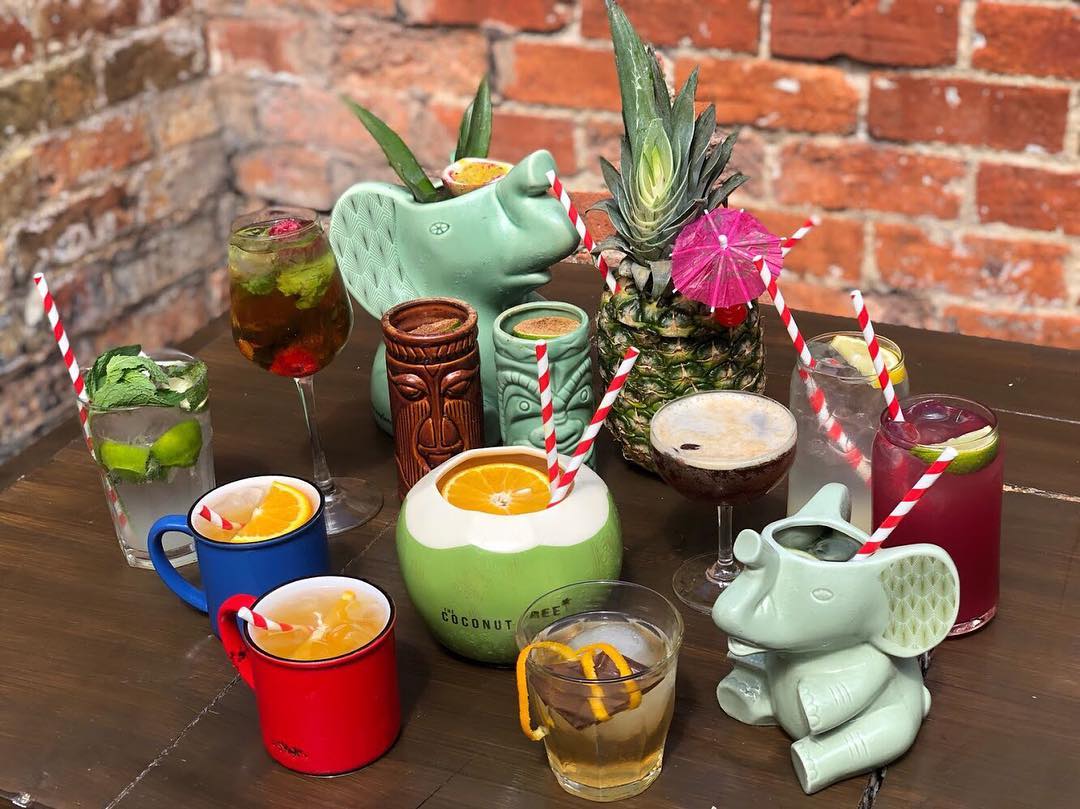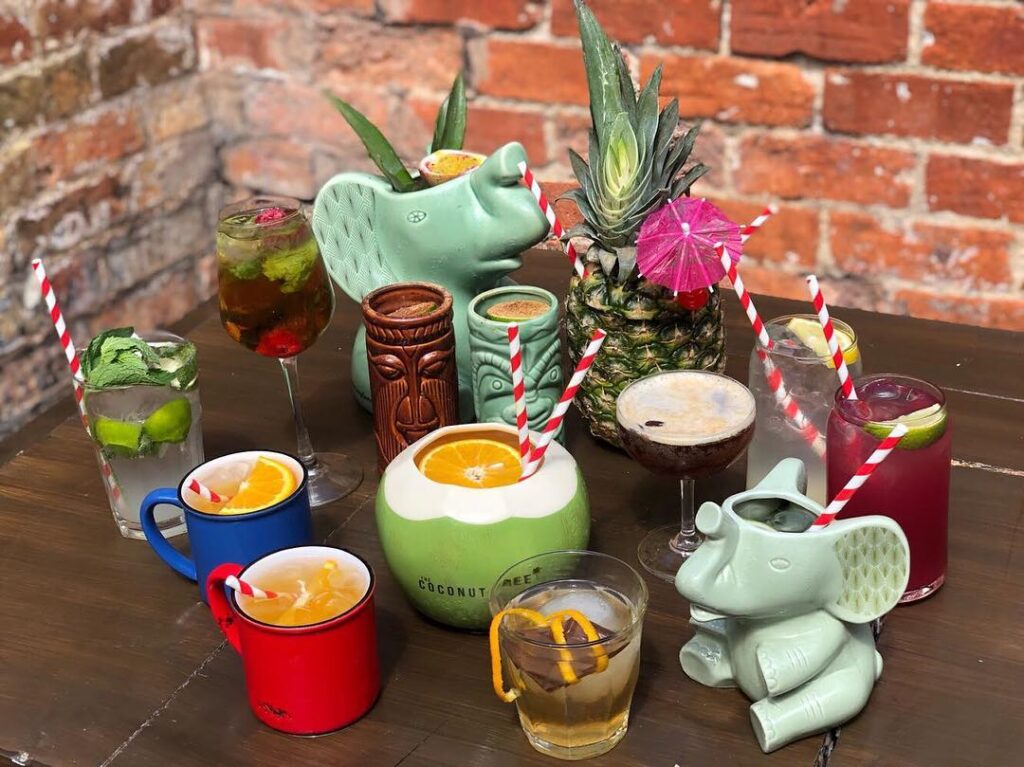 Tastes that I'd never had before were a delight
Being new to the place and equally new to Sri Lankan Street food I was very grateful to the young lady who seated us. She advised us what to have and how things were served. Basically it's Tapas. She suggested that we order three small dishes each and take it from there – 'But you really have to try the Hopper' she said – so we did.
My wife ordered a cocktail called The Drunken Sri Lankan which arrived in a rather Kitch China Elephant. I was immediately reminded of plastic scans filled with Ice Cream that were all the rage in the early eighties.  The cocktail comprised of Ceylon Arrack, Turmeric infused Cointreau, Fresh Lime and Spicy Ginger Beer. The overarching taste though was of slightly alcoholic Ginger bee, had it not been for the china elephant it would have been rather dreary.
I felt rather old being surrounded by young and trendy people and wondered what the appeal pf this place was – because it was pretty full and buoyant.
My wife, sensing my discomfort at being an old codger pointed to a table across the way with an elderly Asian gentleman and his not too young family absolutely scoffing down the food.  "Oh okay, so I'm the second eldest in here !"
The Fun of Street food and Discovery
The Hoppers arrived on white and blue enamel plates that I adore because they make me think of camping as a child. Basically A Hopper is a large pancake filled with three different mixtures – coconut sambol, seeni sambol (caramelised onions with a hint of cinnamon) and lunu miris (Sri Lankan salsa). In my Hopper I also had a fried egg (beyond overcooked I'm afraid and nothing like the picture). The mixtures though were a taste sensation.  These were tastes that I'd never had before and it was incredibly exciting. 
For Mains we had Amba Muluwa – Mango Curry of unripe mango – sweet and sour, Brinjals – fried aubergine and onion, Devil Pork and Pineapple – sweet, sour and tangy, Black Pork – pork belly in roasted spices, Jaffna Coat Curry = slow cooked goat.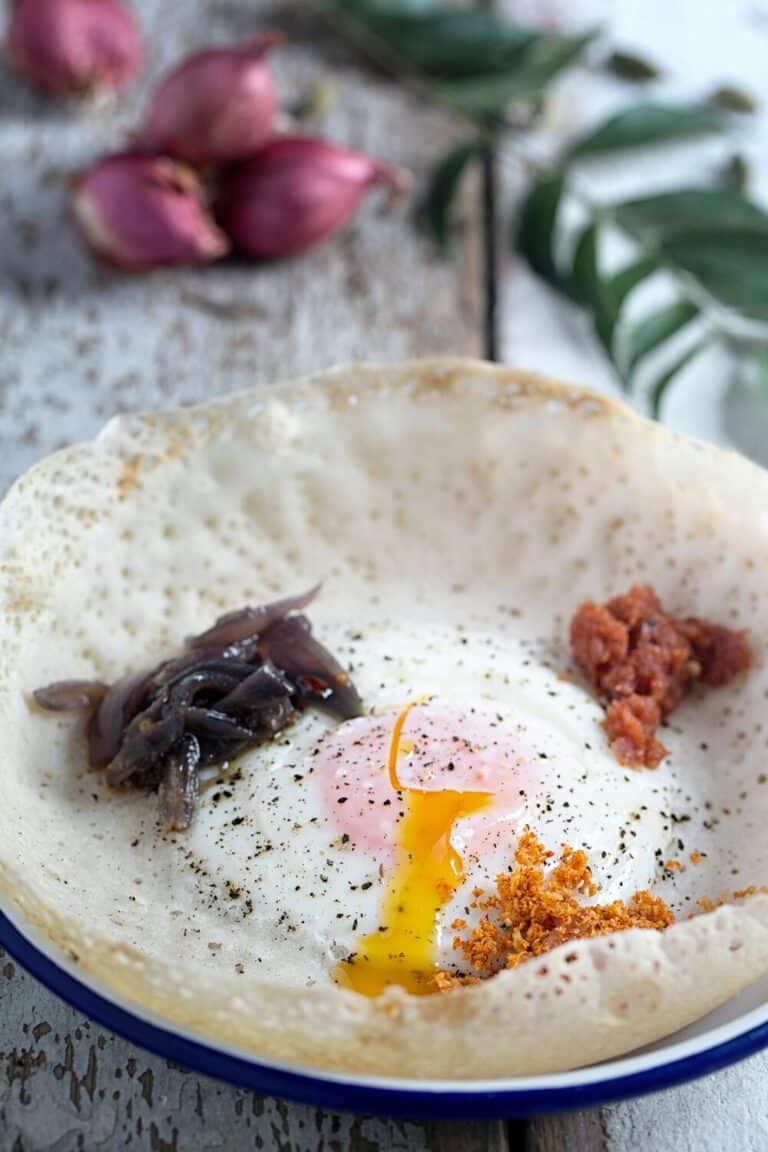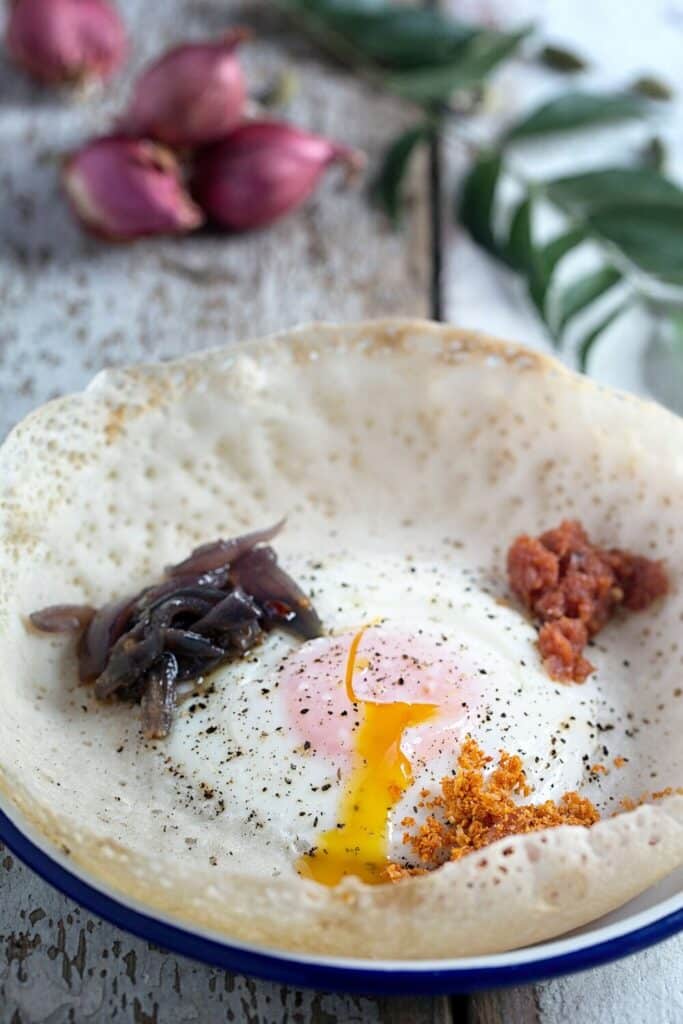 The mango curry was interesting and certainly caused division between my wife and I – she loved it and I was slightly less keen. It had a rather over thickened sauce that to my mind made it a bit gloopy.  On the Brinjals we were in unison and wouldn't want it again. The Devil pork, I loved as it had something of that familiar sweet and sour taste akin to a Chinese dish – but my wife less keen. The Goat Curry – lovely and we would both have it again. The star of the show was the Black Pork which like the starter mixtures was a taste sensation – Gorgeous.
I'm not sure if they did deserts, we certainly weren't offered any which was just as well as we were quite full anyway.
The highlight of the evening though and something that certainly makes me understand why this place is so attractive –  fifty percent off Monday to Wednesday until January 2022 (Not including Drinks).  
So on balance I'd say, we had food we've never eaten before, tastes that excited us both and a lovely evening for about £30 
What's not to like?