All opinion articles are independent and not paid for by any establishment
21st Birthday lunch at The Boxing Hare in Chipping Norton
We had the pleasure of being taken out for a meal to celebrate the 21st birthday of a very special young woman.
Our friends booked The Boxing Hare in Chippy. It sounded interesting, it had some positive reviews and more to the point we'd never been there before, which if it hadn't been for the birthday celebrations was an even better reason to don the glad rags and hurry along.
Upon arrival on this bank holiday Monday the car park was not exactly full which didn't exactly alarm me but did make me wonder if the reviews I had read were very old. (It turns out the restaurant isn't usually open on Mondays).
It's a lovely building with a garden dining area and from what I could see as we walked past a few covered pods for diners.
As we walked in, a larger than life man (possibly the head waiter or maybe the manager) who I believe is called Fabian greeted us and cheerfully took us to the table where our friends were already seated.
After some lovely pleasantries and birthday wishes, Fabian returned to take our drink order and then our food orders. His presence isn't what could be described as subtle or unobtrusive, more like an audition for a West End musical. He was certainly trying very hard in his performance to create a swinging and jocular party feel. Maybe a little too hard! When he playfully raised his hand in a schoolboy sort of way and suggested that we order another glass (for himself) to go along with the Prosecco I started to think that this wasn't going to be an average lunch. My eighteen year old son certainly wasn't impressed with being ribbed by Fabian for not smiling enough – 'How come your Mum is so smiley and happy and you're so….' making a scowling face.
Whilst my wife went for the cured fish to start followed by duck breast, I plumped for the cheese soufflé as did my son and to follow – him a burger and me Arancini in a truffle sauce.
The Boxing Hare isn't cheap and I suppose I always expect a certain level of service that matches the price (whoever is paying).
When the starters arrived, not with Fabian, who was catering to another birthday bash that we all felt duty-bound to sing happy birthday to – al la TGI Fridays, the waiter passed the full plates across the table. It was a round table with plenty of space and he could have very easily walked around but instead hot plates of cheese soufflé and its accompanying runny cheese sauce were manhandle, slopping across the five-foot void between the waiter and the recipient. Not great to be honest at this level of price. My son who works in an Oxford restaurant said 'he'd be fired for that at my restaurant'.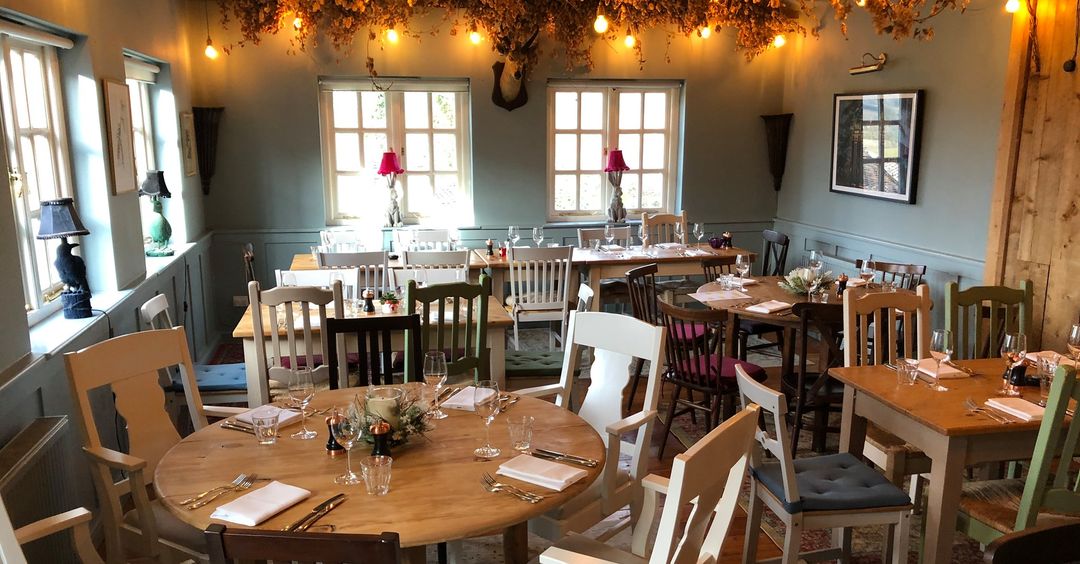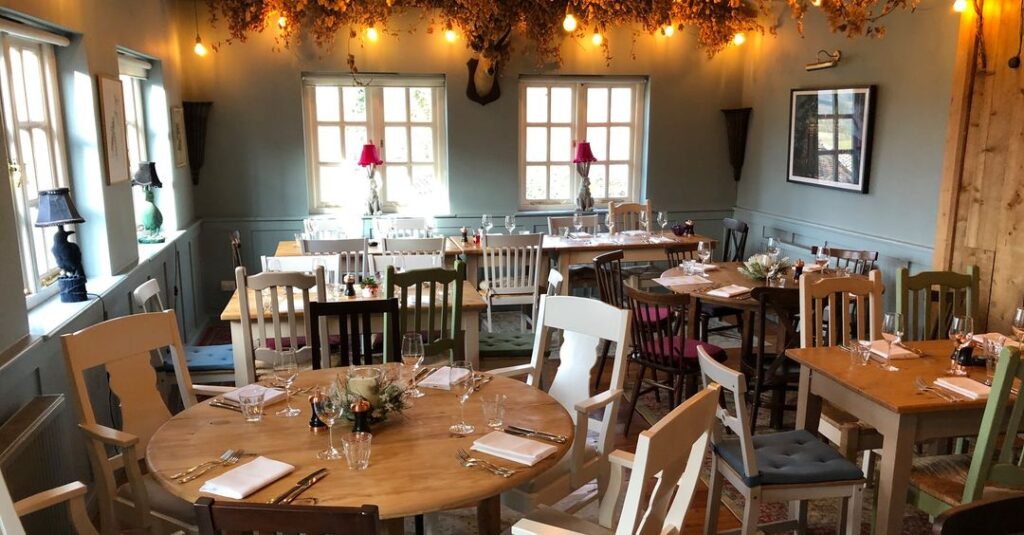 The cheese soufflé was nice, (£8.50), certainly cheesy and nesting on a bed of spinach with a pretty good cheese sauce to boot.
My wife's cured sea trout looked lovely although quite a shy portion for £9.
The mains arrived with Fabian, who by now had sung 'happy birthday gorgeous' to two tables of diners. Frankly, I was quite grateful that he didn't burst into a high kicking song and dance routine right there and then, but something told me this may be coming later.
My wife's duck was wonderful and so it should be at around £30, she almost licked the plate at the end.
My Arancini (£16) were delightful and surprisingly large with a gorgeous sauce that felt very indulgent.
My son's burger (£16), was good (although he stripped away all the pickled cucumbers) and from the bit he allowed me to try, definitely homemade.
Others at the table enjoyed Halibut, Monkfish and Steak. The 8oz fillet by the way is around £38 !!!
Fabian did his absolute Mediterranean best to persuade all of us to have a dessert, (he failed with me as I was replete after my rice balls). My wife and son ordered an Affogato and the 21 year-old star of the show ordered an Espresso martini much to the bewilderment of the waiter. I think this was the first time anyone had ordered such a thing and he wasn't sure if they could or indeed knew how to make the cocktail, but they'd try their best. My wife chirped up – 'my son's a cocktail barman he can show you'. That didn't go down well !!
Desserts were served, well loudly plonked down actually, with a surprise for the birthday girl of a single lonely scoop of vanilla ice cream with a candle. Then, guess what, we all sang 'happy birthday gorgeous' (I guess it's easier than Fabian trying to remember the actual name!) for the third time. Sadly there were no high kicks !
I was allowed a small try of my wife's minuscule serving of vanilla Affogato which was ok, but very small and nothing like as good as La Cucina in Oxford – now that's an Affogato.
Out of the blue, another waiter popped up, holding 3 coffee beans in his sweaty fingers! (A spoon might have looked somewhat nicer and possibly more hygienic). 'Silly me, I forgot the coffee beans' and plonked three beans in the Espresso Martini.
All in all it was a very pleasant extended lunch and the food was really very nice.
However, have you ever been to a party where someone (other than the host) wants to be the absolute centre of attention and who doesn't have an off button ? That's Fabian.
In many ways, he was doing all the right things to make it a fun lunch to celebrate a beautiful young woman, but there was no inner regulator to his need to be seen as the king of the party. It was incredibly full-on, marginally forced and if he'd just reigned it in a little bit I would certainly have less to gripe about.
I've subsequently read several reviews of the BH and whilst food is usually given an excellent review, service does seem to be fairly high on the whinge list. And of course, there is the mention of flamboyant, charismatic, camp, entertaining and over chatty staff.
In fairness the 3 Women on our table seemed to love the performance, maybe the men less so.
The opening page of the website is quite off puttingly officious – in my opinion. Before one even gets to the pictures and the food details we are told that '…. should the table be canceled OR the number of guests REDUCED with less than 24 hours' notice, we reserve the right to charge your card £15.00 per person. 
In the event of a "no-show", the charge will be £25.00 per person'.
We have a 15 minute grace period. Please do call to let us know if you are running later than 15 minutes after your booked time, as this can really impact on service, both to your party and other diners'
I think it's a great shame that these announcements dominate the website over the food and the ambience. One could almost feel threatened before you even get there. It's certainly not very friendly.  
Mind you it's also a shame that when you read reviews on sites like Trip advisor that the restaurant management feel the need to argue with the critique rather than simply trying better next time. One response rather tickled me though, starting with the line 'Are you sure you were at The Boxing Hare?'
Would I go back? The food is definitely worth returning for, but the service, at the prices they are charging, is not so good. So for now I'll say probably not, there are other places I'd rather go to first.