Wilding's - a New Oxford Wine Orientated Restaurant
A very limited Cocktail list that they can't go off
A new restaurant, wine bar and wine shop has arrived in the Jericho area of Oxford. Wilding offers a warm, elegantly-designed, relaxed space to eat and drink great food and exciting wines in the historic centre.
I decided to pop in on a Monday night when lots of bars and restaurants are closed in Oxford. It wasn't busy by any stretch of the imagination which I was surprised at – although a lot of the staff's friends kept popping in to say hello, have a kiss and leave. I guess it added to the atmosphere.
The young man who seated us at a table asked if we would like a cocktail and I asked '`can you do a Mai Tai?'. 'No', came the response we are not allowed to make anything that's not on our system. So my wife ordered a Fuity concoction with Sloe Gin (which I'm afraid she wasn't keen on) and our other guest a Spiced something which was in her words a bit 'uninteresting'. Maybe we should have stuck to wine !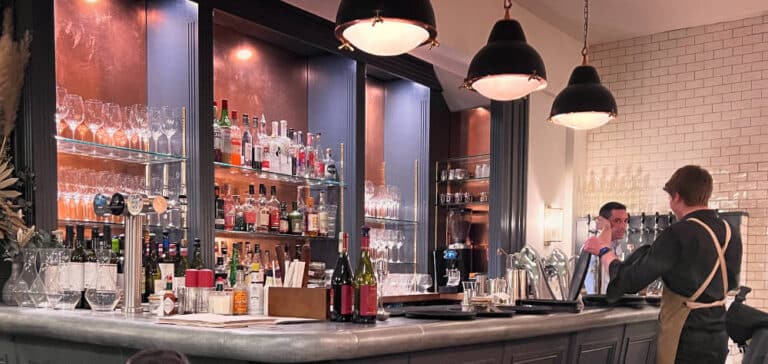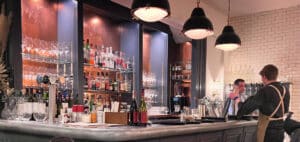 Wilding's name comes from the practice of regenerating overworked land to return it to nature; such is Wilding's intention to make as little impact on the environment as possible and they only work with the very best in agile, environmentally-responsible businesses that support this ethos. Wilding comes from Founder Kent Barker, who's worked in the industry for over 30 years, and has previously held senior positions at Bibendum, Oddbins and Enotria.
Food comes from Chef Dominique Goltinger (from kitchens such as Bistrot Bruno Loubet and most recently Maremma in Brixton) who cooks a menu that prioritises seasonality and local provenance. He's working with a local Somerset forager to bring seasonally-changing and biodiverse ingredients to the menu to enhance the strong plant-based offering. Goltinger and the team create dishes like hand-dived scallops with seashore vegetables and wild capers, to chargrilled asparagus with Caerphilly cheese and hogweed shoot dressing. The menu also includes sharing dishes, market fish; charcuterie and seafood boards along with ex-dairy cow beef. Suppliers have been hand-selected by Goltinger to bring the best of British produce to the menu, including Westcombe Dairy, Cove Shellfish and Hogget and Boar, with the Wilding team handling butchery and fermentations in-house to minimise food waste.
Barker, who runs the award-winning Eight Stony Street in Frome, intended to create with Wilding a venue where wine and food is matched and served in a creative, unpretentious and engaging way with customers encouraged to be bold and adventurous with their ordering.
The restaurant joined the creative canal district of Jericho in Oxford, offering 80 covers, with an additional 16 in a private dining room, 20 at the bar and an expansive garden terrace for up to 60 guests. The terrace is landscaped with wildflowers, aromatic herbs and vines from local vineyards.
Wilding offers a retail space where guests can buy from over 400 bottles of wine, and up to 10 guests can sit and grab a drink and bite to eat.
In my humble opinion Wildings seems a bit pretentious and not really needed where it is. It is almost opposite Angels Cocktail bar, a few yards from Duke of Cambridge cocktail bar and almost next door to Oxford Wines – So I'm not really seeing the point – but that's probably just me.
Kent Barker has always worked in wine and hospitality (whether owning a fish restaurant, or working as a Wine Company Director), but it was actually after he was made redundant that the opportunity arose to become a restaurateur. 
After persuading Sarah Helliwell, with her easy going charm and knowledge of wine, to come on board and fighting off fierce competition for a fantastic site in Frome in Somerset, becoming a restaurateur happened very quickly. "It wasn't until we opened Eight Stony Street , that the enormity of what we'd done, hit us. It was a massive challenge to have a hybrid venue, so we had to learn very quickly on the job and I'll admit at times it was chaos!"