All opinion articles are independent and not paid for by any establishment
The Hare
Milton-under-Wychwood
I've been going to The Hare in Milton-under-Wychwood for years, and it never ceases to satisfy. I've taken my immediate and extended family there, friends, colleagues and even an award-winning film director and his ensemble. I can confidently say I've been delighted with the food and service on every visit.

Taken over by Matt and Katie Beamish, the owners of the Plough at Kingham, during Lockdown in August 2020, it has been handsomely refurbished whilst still retaining the charm that the previous owners brought to the pub. They have also, very wisely, kept the Fish specials board that gave this Cotswold retreat (occasionally frequented by Jeremy Clarkson) a culinary edge over other pubs in the area. Cornish Chef Matt Dare is maintaining The Hare's reputation for excellent, fresh seafood specials that change daily.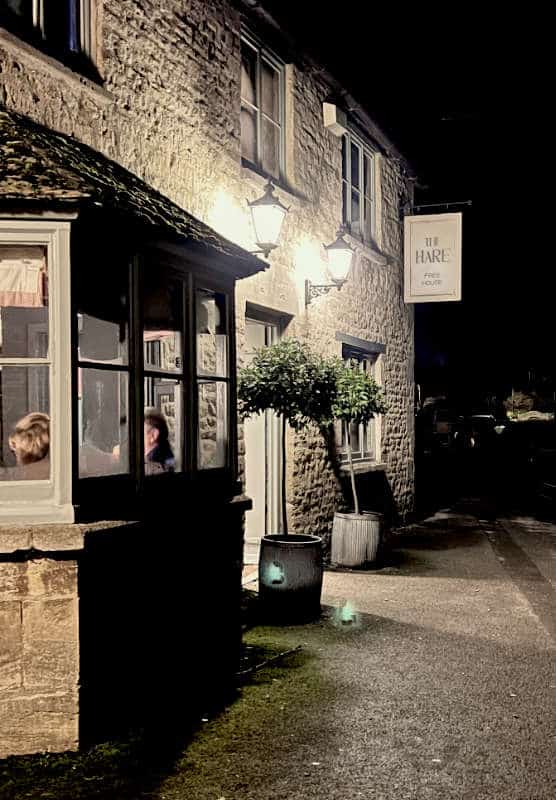 My first visit must have been about four years ago, under the previous owners, when kidneys on brioche were on the menu, followed by a Scrummy grilled Sea Bass that I sadly can't remember in detail. I say sadly, but that's a good thing as I tend to remember bad food all too readily. Another visit featured lovely chicken livers on toast, although they didn't top the kidneys.
Before the new owners took it over, the old menu was always pretty inventive and the Sunday roasts were beautiful. Considering Matt and Katie's heritage working with renowned chefs Raymond Blanc and Jamie Oliver, innovation thankfully seems to be top of their list of priorities too.
Most recently I took a party of five for a meal on a Monday evening. We were a pretty eclectic bunch and knowing I would write a review, I asked them to give their meals a personal score out of 10.
Runny Scotch Egg with a Mustard mayonnaise 9/10
Roquefort and Walnut Salad 8/10
Moules Marinière 9/10 (it would have been a ten had I had a bit more bread to mop up the creamy sauce)
Yellow Fin Tuna Salad 8/10 (which started out as a 6/10, as for this particular guest, it was a little too rare originally. A flash in a hot pan later and it was lovely – Sorry Matt Dare)
Creamed Leek, Potato and Spinach Soup 8/10 (apparently not as much Leek flavour as desired)
Crispy Oriental beef Salad 10/10 – sublime
Flat Iron Steak with fries 10/10
Calves Liver and Bacon 10/10 – Gorgeous with onion mash and a hearty red wine sauce 
Caesar Salad 9/10
Rib Eye Steak 7/10 (it was a little thin, so it struggled to be the right side of medium rare – but according to my 19 year old – still bloody good)
Side dish of Cauliflower Cheese – also very nice
If I could, I'd give the calves liver and bacon twenty out of ten as it was wonderfully tender, flavourful and served with oven roasted bacon and a creamy mash soaking up the rich gravy – gorgeous.
My son, who ranked his Rib Eye steak 7/10, wished he had chosen the flat iron steak, as despite the name it was a lot thicker and would have probably been a bit rarer.
As the table host, it was wonderful to hear the delightful noises of people enjoying their food – my wife was positively in heaven with her Asian beef salad.
Is it good value? Yes, undoubtedly, although not at the cheapest end of things. For five of us, including drinks and a bottle of house red, about £35 per person. Our overall personal score of non-expert but appreciative diners giving 88/100 indicates it was a triumph.
The staff are a pleasure at the Hare; they always have been, both under the previous and the new owners. Apparently, Matt and Katie rotate their staff between the Plough and the Hare to improve their knowledge.
On this occasion, we were primarily served by a young man called James, who was polite, efficient and genuinely seemed to enjoy working there – he too waxed lyrical about the Asian beef salad.
Will I be going again? Of course. I've been there so many times without disappointment that it would be stupid not to.
However, I have one tiny recommendation to the managers at The Hare – please change the booking system provider you're using; it's exceedingly unpleasant to use.